Ira's Week 1 Picks Against The Spread
September 8th, 2017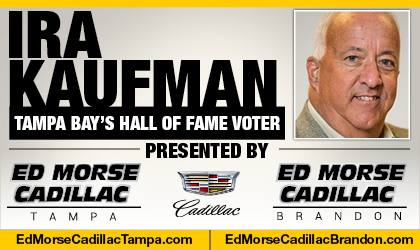 Welcome to a new feature on JoeBucsFan.com. Joe has challenged Ira Kaufman, Tampa Bay's only Hall of Fame voter, to pick against the spread this season for a $500 prize. Every Friday, Ira will type out his picks for each Friday-through-Monday game. If he hits at 53 percent or better for the regular season, then Ira gets $500 in gift cards to Abe's Place in Clearwater, home of historically amazing food and 44 craft beers on tap. Feel free to send Ira your stone cold locks on Twitter, @ikaufman76. The sage of Tampa Bay sports could always use some help.
BY IRA KAUFMAN
As a loyal employee of this fast-growing website, I find myself excited to try my acumen at picking NFL games against the spread.
That doesn't mean I'm expecting a windfall. Heck, I just want to break even and go on my way.
I was all set to jump on the Bucs at Hard Rock Stadium, but that pick will have to wait until Nov. 19. In the meantime, here we go with this weekend's selections:
FALCONS minus-7 at BEARS. Besides Jordan Howard, the Bears don't have much to test an Atlanta defense that could be the best in the NFC South. John Fox is hanging by a thread and Matt Ryan should enjoy an opening-day feast at Soldier Field.
BILLS minus-9.5 vs. JETS. Buc fans can't believe it, but Josh McCown will open under center for the tanking Jets as they head to upstate New York. Tyrod Taylor isn't elite, but he will make enough plays when he isn't handing off to LeSean McCoy.
TEXANS minus-5.5 vs. JAGUARS. Facing J.J. Watt and Jadeveon Clowney is no way for Blake Bortles to resurrect his career. The Jags don't have enough firepower against this fierce defense.
EAGLES minus-1 at REDSKINS. Philly's defense is underpublicized and Kirk Cousins no longer has DeSean Jackson and Pierre Garcon as downfield threats.
LIONS plus-1.5 vs. CARDINALS. This season is Carson Palmer's final stand with Bruce Arians and his best bet is to give David Johnson 25 touches. If Matt Stafford isn't weighed down by his wallet, he could find himself directing a balanced offense.
TITANS minus-2.5 vs. RAIDERS. Derek Carr will get his, but the big issue in Oakland is a defense that needs more playmakers surrounding Khalil Mack. Look for Tennessee's punishing ground game to keep Carr pacing the sidelines.
BENGALS minus-3 vs. RAVENS. Andy Dalton can't complain about his weapons and a healthy Tyler Eifert is a difference-maker. Baltimore looks to be in rebuilding mode, although the defense remain stout.
STEELERS minus-9 at BROWNS. The absence of Myles Garrett for at least a few weeks is a crushing blow, but Ben Roethlisberger isn't complaining. Pittsburgh's offense is scary on paper and a suspect secondary has been overhauled.
RAMS minus-3.5 vs. COLTS. Without Andrew Luck, there's not a lot of reasons to watch this matchup. You can bet Wade Phillips will make things difficult for Luck's replacement, Scott Tolzien.
SEAHAWKS plus-3 at PACKERS. This should be a bounce-back year for Russell Wilson after an injury-plagued season. Look for Doug Baldwin to find the end zone at Lambeau.
49ERS plus-5.5 vs. PANTHERS. San Francisco has been known to pull off a few home upsets in Week 1 and Kyle Shanahan can't wait to get started for John Lynch. Cam Newton's shoulder remains a concern.
GIANTS plus-4 at COWBOYS. Ezekiel Elliott should get plenty of work behind an imposing offensive line,  but Dak Prescott will find tough sledding against New York's stellar secondary.
VIKINGS minus-3.5 vs. SAINTS. Dalvin Cook makes his regular-season debut and New Orleans doesn't have the defensive talent to contain him. Adrian Peterson will be the second-best back on the field Monday night.
BRONCOS minus-3.5 vs. CHARGERS. Even with T.J. Ward's departure, Denver's defense remains elite as Von Miller takes dead aim at Philip Rivers. Keenan Allen's return gives Rivers another deep target.
Season Record: 0-0