Tuesday Bucs Training Camp Notes & Observations
August 22nd, 2017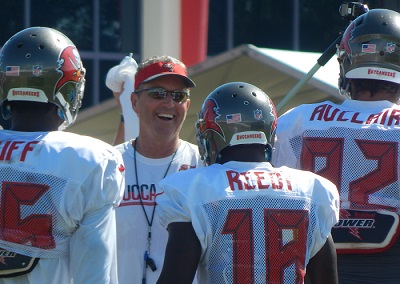 Training camp grinds on and Joe is here for you, soaking in the happenings and taking notes at this morning's session under sunny skies at One Buc Palace. It's Joe's nearly world famous practice notes. Enjoy!
*Joe nearly collapses from stress seeing J.R. Sweezy wearing a floppy hat on the sidelines, his 2016 lid choice for the season. But all is good when Joe learns Sweezy is just getting a veteran day off. Joe sees Josh Robinson also with a floppy hat.
*Somewhere Bill Walsh is smiling. Jameis hits DeSean Jackson on a crossing pattern a foot in front of the numbers. That was Walsh's key to passing: One foot in front of the numbers, not six inches in front, not six inches behind, a foot in front of the numbers.
*Lot of short passes worked on today. Chris Godwin shows up there with the first team in 11-on-11 work.
*America's Quarterback, Jameis Winston, fires high and behind a skying Freddie Martino down the seam. It's catchable but dropped. Vernon Hargreaves in coverage.
*Nick Folk makes four field goals in a row at skinny posts and the crowd reacts with glee. Appeared Folk fired from 32, 42 twice, and then 52 yards. Then Folk kicked an extra wide of the left skinny post, which is about half the width of regular goal posts.
*7-on-7 work starts and More quick-out throws — to Cameron Brate and Bernard Reedy.
* Jameis rolls left, hits a streaking DeSean Jackson down right sideline. See ya! Veteran cornerback Robert McClain gets beaten 1-on-1 and gets coached up afterwards. Great touch pass by Jameis.
*Fitz sidearms quick pass over middle to Chris Godwin for a nice gain.
* Vernon Hargreaves makes a couple of nice plays. One a breakup and another he squeezed Josh Huff off his route.
*Jameis way off target, underthrown.
*Jameis to Adam Humphries, who settled in comfortably against a zone defense for about a seven-yard gain.
*Jameis throws short. Inc.
*Ryan Fitzpatrick may have just thrown his best pass of camp. Dropped a pass in the bucket for Charles Sims about 15 yards down right sideline.
* Josh Huff skies for a Fitz pass and comes crashing to the ground but hangs on to the ball.
*Hat tip to Lavonte David and Gerald McCoy blowing up a play in 11-on-11.
*Coverage sack! For the first-team defense. Jameis had nowhere to throw and just waved off the play after the pocket started collapsing around him. (Perhaps Jameis is learning?)
*Clinton McDonald would have had a sack in a real game but had to pull back under camp rules.
* Looked like Cam Brate with a sick catch along right sideline with a defender draped all over him. Jameis with a perfect pass.
* Josh Huff on a crossing pattern from left from Jameis scores.
* Jameis threw a little behind Cam Brate in red zone drills, which enabled Kendell Beckwith to get a hand on ball just as Brate pulling ball in.
*Ryan Fitzpatrick rolls right and hits O.J. Howard alone in left corner of end zone. (full story on the home page with quotes from Howard)
*Fiesty cornerback hopeful Cody Riggs, who was on the Bucs' practice squad last season, strips Josh Huff right as the whistle blows on a play. Riggs could be on the bubble to make the roster. He also spent parts of 2015 and 2016 with the Titans.
*RED ZONE!
*Drop! by Huff. Joe briefly yearns for Russell Shepard. Briefly.
*Robert Ayers rushing plenty inside today with Ryan Russell at right defensive end with Noah Spence at LDE and Gerald McCoy also inside. Swaggy Baker? Joe's not going there today.
*Jameis complete to Doug Martin on the left sideline.
*Noah Spence appears to jump offsides.
* Fitz might be having his best practice of camp. Whoops! Fitz returns in red zone and just like that he overthrows everyone and J.J. Wilcox makes a diving pick in center field.
*Nice slant completion Fitz to Godwin.
*Last guy off the practice field, still working and wearing full pads. It's Jacquizz Rogers working on the JUGS machine.