"I Still Think I Got About Five Years Left"
August 9th, 2017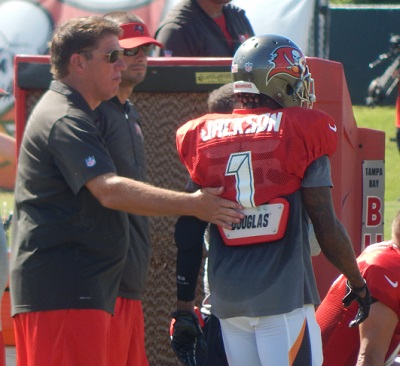 Great news on Hard Knocks for those who think DeSean Jackson is a diva who just came to Tampa Bay for a final paycheck.
Jackson, 30, signed with the Buccaneers in March for about $11 million per season, with two of three years guaranteed.
In a relaxed setting at his new Tampa home, Jackson talked on the HBO reality series about his future. Joe was relieved to hear Jackson is looking deep into his future and seeing a ton of football in front of him, far beyond his new contract.
"I still think I got about five years left, before I'm at that point where I'm like, 'Oh, my time's up.'" Jackson said.
Beautiful music right there. It's great that Jackson believes he has a ton more to give. That tells Joe that Jackson's body really feels A+, which is what he told Jon Gruden earlier in the episode.
How cool would it be for Jackson to grind it out here for three more seasons and earn a second contract at 33 years old? Sort of what Vincent Jackson couldn't pull off.