Significant Ali Marpet Return
August 14th, 2017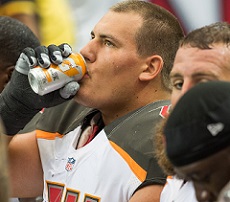 Ali Marpet's right ankle might still be taped up and be an area of concern, but he was back in pads working against the Jaguars on the Jacksonville practice fields today.
Marpet sat out the preseason opener on Friday night following two practices off because of the ankle.
Teams don't have to disclose injury details in preseason the way they do in the regular season. But Dirk Koetter allayed a lot of fears about Marpet's ankle during his post-practice news conference today.
"Yeah, we got Ali back, got Evan Smith back out there today, George Johnson was back today. Ali definitely firms up the middle for us," Koetter said. "We had some identification errors in the run period but it wasn't the centers' fault. Getting Ali back – if it was a [regular-season] game, he would have been good to go in Cincinnati but it's good to get him back. It's good to get all those guys back."
Awesome news to hear that Marpet would have played Friday night if it mattered.
No shots needed for Joe tonight, but Joe Hawley was very solid at center against the Bengals. Having Hawley for true depth this season would be a bonus.