Jameis Shares His Preseason Grade
August 14th, 2017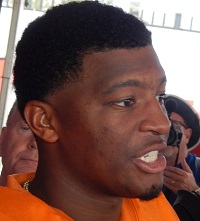 Every Buccaneers player was graded for his preseason performance against the Bengals.
Coaches, who know the assignments and playcalls, soak in the game film and fire up a report for each player.
Today after practice in Jacksonville against the Jaguars, America's Quarterback, Jameis Winston, shared his grades with assembled media.
"Well, the coaches gave me a B-minus," Jameis said. "Obviously, preseason or not I just want to win. That's the main thing. Definitely got to [have some] improvements. Scoring in that red zone – me and Mike Evans can't get inside the two-yard line and not connect on two straight attempts. That's the only negative I take away from that game. We looked good. We started out fast. Especially when your first drive is from the six-yard line and the next one is from the one, and you flip fields and you start off the game with a 92-yard drive, you've got to love it."
Yes, that opening drive against the Bengals was impressive, sustained and diverse, too. The only glaring problem was the 0-for-2 Jameis referenced — two shots from the 2 yard line, and two bad throws to Mike Evans covered by Adam "Pacman" Jones man-to-man.
The Bucs simply have to convert that kind of opportunity 75 percent of the time.