"Outstanding"
August 20th, 2017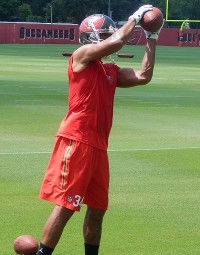 It's rare for Dirk Koetter to say a player's performance is "outstanding."
He usually goes with "solid" or "strong" when a guy is playing well.
Well, one Bucs running back got the "outstanding" label from Koetter this weekend. On Saturday, Koetter was asked about his running backs crew and said Charles Sims has had an outstanding training camp.
Mostly that's significant because it illustrates how much Koetter loves Sims' game when Sims is healthy. And Sims has been just that all summer long.
Yes, Koetter loves him some Charles Sims. He remembers Sims rushing for five yards per carry (107 attempts) in 2015. And Sims caught four touchdowns and was the Bucs' second-leading receiver that season with 561 yards.
In addition to practicing well in 2017, Sims looks a tiny bit quicker and bigger than usual. And he's scampered for 29 yards in five preseason carriers, including three tough runs up the middle.
Those watching Chucky call Thursday night's game on ESPN heard him rave about how Sims averages 10 yards per catch in his career, unheard of for a running back. Only All-Pro David Johnson of the Cardinals has been more prolific in recent years.
So where does this leave Sims? Well, Joe doesn't believe Sims is about to start being a featured back anytime soon. But it should shutup those who thought his roster spot was/is in jeopardy.
And it means the Bucs will look to get Sims touches that set him up to explode for those 10 yards per catch. A healthy Sims qualifies as a "weapon for Winston."