Koetter: True RB Evaluation Still Hasn't Happened
August 4th, 2017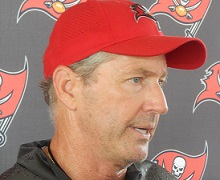 All through spring practices Dirk Koetter said repeatedly that running backs truly couldn't be evaluated because there was no hitting or breaking tackles.
You know, real football.
Sure, Bucs officials said Doug Martin looked like he was in 2015 form, but what did that really mean? Does that mean he looked like garbage in 2016, when he averaged 2.9 yards per rush on a whopping 144 carries?
After practice yesterday, Joe asked Koetter about his running back evaluation after finally seeing his guys in pads in training camp.
Koetter said there's still a lack of clarity at the position.
"I think we have good depth still. You know, we're not going live tackling right now, we're doing 'thud' tackling. We quick-whistle everything. It's sometimes hard to tell if a guy would've been taken down or if he would have spun out of it," Koetter said. "I like our depth. Those guys are working hard in pass-pro, they're working hard catching the ball. Except for Doug [Martin], all the other guys play on special teams, which they're going to have to do. When you get down to 46 on game day, those running backs, if you're not the starter, you've got to help out on [special] teams. Like everything else, they're doing fine."
So we wait — eagerly — for preseason games.