Koetter: Godwin Looked Like A No. 1 Receiver
August 27th, 2017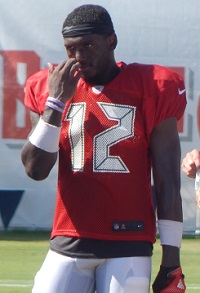 Uncork the champagne. Call a pool party. Start a savings account for playoff tickets.
The Bucs are going to have a high-flying offense this season to match their solid defense.
Yes, Joe is feeling frisky after hearing winning head coach Dirk Koetter stand at the One Buc Palace podium today and say rookie receiver Chris Godwin needed to play like a No. 1 receiver last night without DeSean Jackson and Mike Evans in the lineup — "and he did."
What major league praise for Godwin, and Joe assessed this in detail as the game wrapped up.
Koetter added today that Godwin was strong in blocking as well as pass catching, but he needs more stamina to play 60+ plays. However, Koetter said, the Bucs aren't likely to ask him to do that.
Regardless, the Bucs now know that Godwin has it in him to be a starting receiver. So now what? Koetter says repeatedly that he wants his best players in the field and will adjust to make that happen.
If Godwin is the next Roddy White, as Koetter has implied multiple times, then Koetter would be foolish not to open up the offense to get Godwin on the field regularly with Jackson and Evans.
And there's still O.J. Howard and Cameron Brate to give playing time.
Let it fly, Coach. Joe can already see the chains moving and six- and seven-man boxes for Jacquizz Rogers and Charles Sims to pick apart from the backfield.