HBO's Aguayo Fail & Touchdown Formula
August 16th, 2017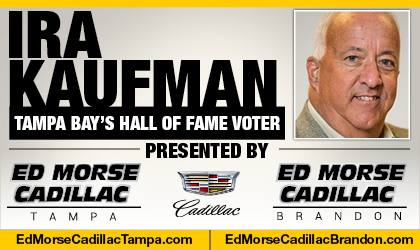 Ira Kaufman is the most beloved, revered and esteemed Buccaneers columnist in town. He has hung his hat at JoeBucsFan.com world headquarters since July 2016. Tampa Bay's only Pro Football Hall of Fame voter, Ira busts out columns here every Monday, Wednesday and Friday, and his award winning podcasts fire Tuesdays and Thursdays.
BY IRA KAUFMAN
Stick Carriers to the rescue.
Hey, somebody has to give Hard Knocks some intrigue after two rather bland episodes.
This show obviously has a lot of appeal in the Bay area because Buc fans are hungry for any morsel about their football team. But when you get past Spring Hill and Lakewood Ranch, is anybody watching this supposed "inside" look at a franchise on the rise?
We're going to devour each episode because hey, hey, it's the Buccaneers and we were hooked from the start. We're into Riley Bullough and Ryan Griffin because there's a chance they will wear pewter in the fall.
But from a national perspective, Hard Knocks has failed to reach the end zone. No wonder less than 700,000 viewers tuned in for the first installment, when Bullough got more air time than Kwon Alexander — who will soon be Tampa Bay's best defensive player, if he isn't already.
We saw a few glimpses of the Stick Carriers in Tuesday night's episode, teasers designed to whet the appetite for what's to come.
This growing movement deserves to be a main course for an HBO crew desperate for something new.
We don't need any more looks at Gerald McCoy's man cave or Robert McClain's art work. Miko Grimes has had her say and we have heard Dirk Koetter swear like a sailor.
Enough.
HBO's Aguayo Miss
Buc brass, of course, has to be delighted with the opening two hours. There's not a shred of controversy to be found at One Buc Place, despite all those cameras and all that footage.
Can we get a single mention of Doug Martin's suspension? Where's Ali Marpet? Anybody notice Chris Baker isn't too fond of practicing?
This sanitized version of the 2017 Bucs needs a jolt — and takeover day is a good place to start. Jameis Winston was thrilled by the passion and energy that came from the bleachers that memorable morning, a practice session unlike any in Buc history.
But if you're watching in Memphis or Albuquerque, you're thinking same old Bucs. Nothing to see here.
HBO lucked into a compelling story line when Roberto Aguayo was released and cameras detailed the scene in Jason Licht's office. It was emotional, it was real and it reminded us of what this show was supposed to be about.
Once Aguayo walked out the door, Licht should have been interviewed by those same crews about his failed draft-day gambit. Instead, Hard Knocks punted.
Stunning Rebuke
The one constant theme through two episodes is the leadership and drive of the man-child under center. Winston has fun doing his job and his concern for teammates is inspiring.
In the wake of Griffin's shoulder injury, Winston's stunning rebuke to a couple of reserve offensive linemen on the bench provided a brief moment of gripping theater.
Winston said what he had to say and moved on. Before the preseason opener in Cincinnati, he assured Griffin that he had his back. Then he proved it.
With three more episodes remaining, Hard Knocks needs a touchdown. I've got a winning game plan.
Turn the next episode over to the Stick Carriers. Let their story siege the day for 20 minutes or so. Show viewers from coast to coast that things won't be the same in the stands at Raymond James Stadium, where teams like the Bears and Giants traditionally enjoy a shameful home-field advantage.
Koetter is tired of seeing thousands of out-of-town jerseys in the crowd. He sees an opportunity to build a dynamic fan base after a 10-year lull and he's all in.
Memo to HBO: Speak softly and clue the rest of the nation into this movement.
Watch your ratings rise. Touchdown, Tampa Bay.