Change Coming To Running Backs Rotation
August 19th, 2017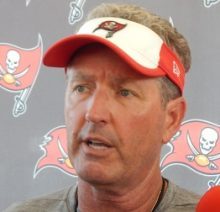 Most NFL fans know the third preseason game is the dress rehearsal for the regular season.
Starters play into the second half and then they sit the preseason finale.
So today after practice, Joe asked Dirk Koetter if preseason Game 3 next Saturday would bring a change in usage for Doug Martin, who won't be available until Week 4 of the regular season. Martin has been the starter through two games, although his reps have been limited.
Joe learned Koetter is no fan of the "dress rehearsal" phrasing and, yes, running back plans will be shuffled.
"It does change the way we're going to do it," Koetter said. "We're going to try to get Jacquizz [Rodgers] more touches.
"Jacquizz hasn't gotten very many chances."
Joe is not surprised. What's the point of giving Martin significant work now? Unless being showcased for a trade is part of it?
The Week 4 game on October 1 might as well be in the year 2019. It's so far out in the world of football.
On Saturday night, Joe suspects Rodgers and Peyton Barber will be fighting for a Week 1 starting job.