Bucs Scouting Chief Highlights Marpet Gamble
August 6th, 2017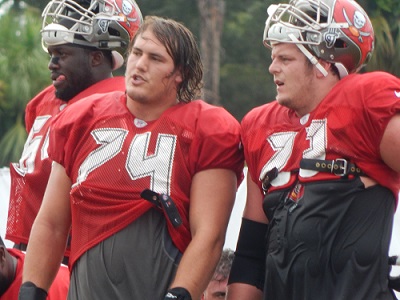 Yes, yes, yes, Ali Marpet is an amazing center prospect and is having a good transition to the position after two strong years at right guard.
Everyone in the know seems to be in agreement, including training camp visitor Brian Baldinger, the former 12-season NFL guard/center now working as an NFL Network personality.
He was at One Buc Palace for Saturday's practice and shared lots of love about what he saw of Marpet.
However, all those early reviews can't cover up the fact Marpet was a damn good right guard. Joe has typed this repeatedly. And it's risky to relocate a well-developing young guard. What happens if Marpet is just average at center?
It's an intriguing gamble. And for Joe the gamble kicked up a notch over the weekend. That's when Buccaneers director of college scouting Mike Biehl jumped on the Buccaneers Insider show on Buccaneers.com and said confidently that Marpet was on an "All-Pro" track at guard. That wasn't Pro Bowl, but All-Pro, which is far more prestigious.
Winning head coach Dirk Koetter wisely noted on the Ira Kaufman Podcast this summer that only one NFL team last year had the same starting offensive line all year long: the Falcons. So every team must expect eventual shuffling on the O-line.
The Bucs, of course, have lots of versatility and can shuffle in various ways. But still, the Marpet move is one of the gutsiest calls of the season and is clearly designed to get guard J.R. Sweezy on the field.
Since needlessly cutting Donald Penn, trading Jeremy Zuttah, and signing Evan Smith and Anthony Collins to start in 2014, general manager Jason Licht has had a supremely magical touch with his offensive line.
Joe's going to take a deep August breath and hope that continues.