Dial Back The Negativity
August 18th, 2017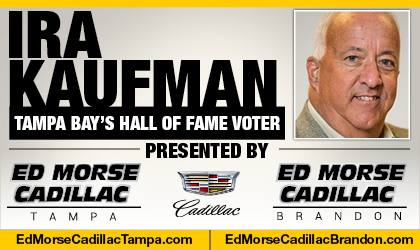 BY IRA KAUFMAN
Enjoy the moment.
There's a lot of hand-wringing going on by national observers and even a few Buc fans about some of the things that went wrong Thursday night in Jacksonville.
Nick Folk had an extra-point attempt blocked and missed a field goal that caused Dirk Koetter to drop his head. The red-zone offense struggled at times. Jameis Winston turned in a bonehead play.
I get all that.
But all I know is Tampa Bay's starters kicked Jacksonville's starters all over the field. And after a mediocre game at Cincinnati, the Bucs responded with a crisp, solid effort.
You want trouble? Nothing to see here. Look elsewhere around the league.
The Dolphins, who open with the Bucs Sept. 10, have already lost their starting quarterback. The Cowboys head into the season uncertain about the status of the NFL's leading rusher. Who knows what's going on with Cam Newton's bum shoulder?
Aaron Donald is withholding his services for a Rams team still trying to establish a new fan base. Donald Penn, who made his NFL bones in Tampa, hasn't reported to Oakland's camp because he is trying to make more coin.
Those are real concerns.
Are Buc fans supposed to lose sleep because Tampa Bay backups didn't shine in the second half? Breaking news: most of those guys won't make the 53-man roster.
Wave-Ready
I know Leonard Fournette and Jalen Ramsey didn't play for the Jags, but I didn't see Brent Grimes, either.
What I did see was Doug Martin running well behind an offensive line that pushed Jacksonville's defense around for 30 minutes. In the first game he ever suited up as a center, Ali Marpet looked terrific, keeping Winston clean.
At times, Winston had enough protection to wave hello to Tom Coughlin in the press box.
The Bucs dominated the trenches, and Jon Gruden, who also turned in an impressive performance, is now all in on his hometown NFL team.
Let's hope Mike Smith made a mental note to turn Lavonte David loose on the blitz more often this fall. Let's hope Chris Baker is a heck of a player because right now, he's a jolly big guy who loves the cameras and may not love football.
Based on what I've seen, Clinton McDonald deserves to start next to Gerald McCoy ahead of Baker.
Even some of the bit players got into the act against the beleaguered Jags. Bernard Reedy helped himself and Kendell Beckwith continued his astonishing recovery from major knee surgery.
Granted, the Jaguars looked awful in front of their home fans. Blake Bortles, only two years removed from throwing 35 TD passes, is about to lose his starting job to Chad Henne.
The ESPN cameras kept showing Doug Marrone pacing the sidelines, looking like an embattled warden during a jailbreak.
Breathe Easy And Smile; Team Glazer Is
The 2017 Bucs aren't going to sneak up on anybody. With a 9-7 record and an enhanced array of weapons for Winston, word is out that this is a franchise you can no longer take for granted.
Koetter wasted no time getting in Winston's grill following his Keystone Cops gaffe. Guess who was loving every second of it? The Glazers.
They want Winston coached up, not coddled. Koetter is eager to oblige, knowing his 23-year-old leader isn't going to pout because of a little constructive criticism.
McCoy said the Bucs wanted to atone for a lackluster preseason opener. Mission accomplished.
You can nit-pick all you want, but I saw a good football team Thursday night. Perfect, the Bucs were not, but ask Jacksonville fans if they want to trade rosters.
When your biggest issue is finding a reliable kicker, you've come a long, long way. Nick Folk will either shape up or ship out.
My guess is he will be just fine.
Overall, my message to Buc fans is to take a deep breath, knowing you have little to kick about.
Ira Kaufman is the most beloved, revered and esteemed Buccaneers columnist in town. He has hung his hat at JoeBucsFan.com world headquarters since July 2016. Tampa Bay's only Pro Football Hall of Fame voter, Ira busts out columns here every Monday, Wednesday and Friday, and his award winning podcasts fire Tuesdays and Thursdays.