"I'm A Risk-Taker"
August 31st, 2017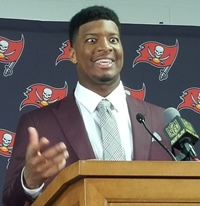 America's Quarterback, Jameis Winston, has lots of ways to describe himself.
He'll tell you he's a negativity-hater and a leader, among other things. And now add "risk-taker" to the mix.
It was a very telling moment on Hard Knocks this week when Jameis offered counsel to Browns rookie QB DeShone Kizer.
Of course, it's unknown what Kizer might have asked Jameis. But Jameis was happy to tell Kizer everything his coaches tell him regularly: stay patient. But Jameis admitted it's not his nature.
"Patience is the easiest way. Alright. Take my word because I'm a risk-taker. Have patience," Winston said. "Who you got — you got coach [Hue] Jackson. So listen to him, let him guide you. But patience is the easy way, checkin' that ball down, even though you got that cannon. Listen to me, because they ain't gonna tell you that. Because you got that [arm], you spoiled, you blessed. Alright. Do your thing."
Very interesting that Jameis sees himself as a risk-taker, versus other ways he could have spun his playing style.