Where's The Beef?
August 9th, 2017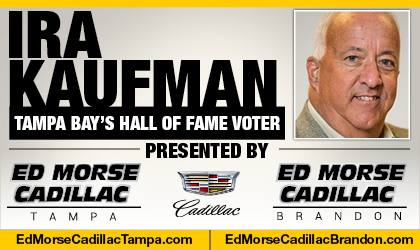 BY IRA KAUFMAN
Dirk Koetter must feel like heading off to Vegas right about now.
The way Koetter's fortunes are running, he'd walk away from the tables hoarding enough chips to fill a tackling dummy. With one month left before the season opener in Miami, the best adjective to describe Bucs training camp is a word any NFL head coach would love to apply this time of the year.
Uneventful.
Distractions are minimal, injuries are trivial and Tuesday night's Hard Knocks debut episode hardly qualifies as controversial.
What did we learn with all those cameras and crew members flying around One Buc Place?
We learned Gerald McCoy is a doting father and Chris Godwin is a confident singer. We learned Jameis Winston has a tight family and Jon Gruden digs Kwon Alexander.
We learned Jason Licht and his crew like to hang out at The Press Box on Dale Mabry and Doug Martin has a playful side he doesn't often show in public.
We learned DeSean Jackson has a badass swimming pool and Koetter has a big heart when it comes to the worst part of his job — holding the door open for a player who is no longer part of the team.
Lots Of Crickets
But for almost 60 minutes, nary a mention of Buc fans or the rise of the Stick Carriers. Not a word on O.J. Howard, Ali Marpet or Roberto Aguayo.
Martin's ongoing suspension?
Crickets.
Instead, a national audience saw overwhelming evidence that Winston is already among the most compelling leaders in Tampa Bay sports history.
The opening scenes of Winston's return to Bessemer, Ala., showed where he came from. The clip of him arriving for work before 6 a.m. tells you where he's going.
The coming attractions are enticing, with references to the kicking battle and a potential star turn by Miko Grimes, but Episode 1 wasn't exactly gripping theater.
We'll see how the ratings stack up to past shows. Buc fans are obviously interested in any peek behind the pewter curtain, but viewers in St. Louis are probably wondering: where's the beef?
Speaking Softly
Koetter, Licht and the Glazers aren't complaining. The organization is expanding its brand … and there's not a whiff of strife in any footage to date.
It's no surprise that the production values of the show are exceptional. The editing, the sound quality and the dozens of varied camera angles are up to HBO standards.
Koetter comes across as advertised, a no-nonsense coach who is determined to keep a young team grounded.
Including Tuesday's rather tame premiere episode, training camp couldn't go much better for a club on the rise.
Players are going down left and right all over NFL outposts. The Dolphins, who face the Bucs in the Sept. 10 opener, have already had to replace their starting quarterback. Raiders left tackle Donald Penn, who built his reputation as a durable stud lineman in Tampa, is holding out for a new contract.
Back at Tranquility Base, the only turmoil is figuring out who gets to pick the music during workouts. As the Bucs prepare to hit the road for Friday night's preseason opener at Cincinnati, hard knocks have given way to love taps.
There are more episodes to come, and there's plenty of time for HBO film crews to dig up some dirt. So far, the Bucs look like a group of guys who enjoy each other's company and try to have fun while they get their work in.
I was a bit surprised Gruden got so much air time as cameras followed him on the field and inside the facility on the day of his Ring of Honor news conference. Between Winston and Chucky, the charisma factor was off the charts.
No NFL team wants to make a lot of noise in August, so the sounds of silence are quite welcome at One Buc Place. The Bucs are speaking softly at the moment, carrying the big mother of raised expectations.
Koetter's training camp is going according to script at the moment. If that makes for less of a Hard Knocks buzz, so be it.
Uneventful. It's a word to cherish at this time of the year.
Sorry, HBO.