Bad Hands Or Just Surprise?
August 18th, 2017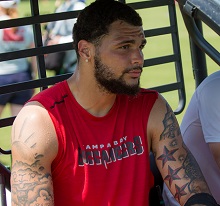 There's a simple formula to the editorial process at JoeBucsFan.com.
Step 1 is as follows: If Joe sees it or hears it, whatever it is, and really finds it interesting and Bucs-related, then it appears on these pages.
Simple as that.
It's extremely rare for Joe to wrestle with writing anything that hits those marks. But Joe did with this one. Maybe Joe's Bucs antennae are tuned up a little too much. Maybe. Probably. Hopefully.
Mike Evans has had drops in the first two preseason games. Last night's was gruesome, a beautiful touchdown bomb dropped in his hands in stride by America's Quarterback, Jameis Winston.
Last night, from the Jaguars' 43 yard line, Jameis dropped back to pass and launched a gem in Evans' catch zone a couple of yards deep in the end zone. Evans didn't "high-point" the ball, but he didn't have to. It was thrown so well he could look it right into his hands at chest level. And he dropped it.
Against the Bengals last Friday, Evans beat himself up for a drop. It was even seen on Hard Knocks.
It's preseason and Evans has looked sharp otherwise through about three quarters of game action, including in practice. He was an absolute monster against Jacksonville on Tuesday. But Joe is having trouble shaking those game drops this morning.
Evans was awesome last season, but that doesn't mean the K-Y hands of 2015 never happened.
Joe seriously hopes the preseason drops don't get in Evans' head. He turns 24 next week and it's too easy to think Evans is a grizzled old veteran. He's still a young, impressionable player.
Evans caught only one pass last season that went for 40-plus yards. Perhaps last night he was just flat out surprised to get a bomb coming his way early in a game, and in single coverage? It's not like the Bucs practice throwing deep a lot in practice.
Just shak'em off, Mike.