5 Things To Watch In Tonight's Game
August 26th, 2017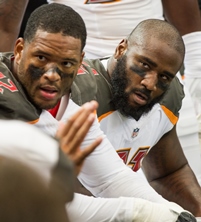 Yes, some key Tampa bay Buccaneers won't play against the bumbling Browns tonight. Don't expect to Gerald McCoy, Brent Grimes, Kwon Alexander and Mike Evans, who are all nursing various physical issues, some of which are more serious than others. 
But there is plenty to scrutinize and here's where Joe's eyes will be firmly focused:
Sorry, dreamers and rampant optimists, but the Bucs don't have a special pass rush. Sure, they were ninth in the NFL in sacks last season, but the defensive line was very inconsistent in its rush and a lot of the sacks came as a result of blitzes. Joe wants to see real improvement, especially with 21-year-old rookie DeShone Kizer starting at quarterback for the Browns. Noah Spence was invisible against the Jaguars, and Spence told Joe he got a grade of "C" from coaches in the preseason opener at Cincinnati. Joe wants to see Spence stop up. Robert Ayers has been rushing a lot inside in practice, but Joe suspects he'll get more edge work tonight. Also, Clinton McDonald is sure to slide over to replace McCoy at the 3-technique. Joe's interested to see how disruptive McDonald can be and if he draws double teams. Chris Baker? Joe is always watching and waiting for Baker to look dangerous.
Take 2, Ali! Joe continues to applaud the success of starting center Ali Marpet against the Jaguars. It was Marpet's first time playing center in a game — ever.  Simple as that. He was awesome. Joe wants to see if Marpet can establish consistency, which might be the greatest challenge at a new position.
The whole position battle thing often feels to Joe like goofy nonsense concocted by writers lacking creativity, but it's very real and unique at cornerback. Joe has harped on second-year man Ryan Smith quite a bit. The Bucs like the kid and think he can serve as the backup outside corner. Smith, though, has been wildly inconsistent through training camp. He was better against the Jaguars last week but Smith still needs to show he's worthy of that No. 1 backup role, which often is critical. It's a huge game for him tonight. If Smith struggles, then Joe suspects Tampa Bay will look to the waiver wire in the coming days to find cornerback help. That doesn't mean they'll cut Smith, only that the urgency at corner will rise. Also, it might help third-year man and former Titans CB Cody Riggs make the roster. Joe will be looking for him more tonight, as well.
Celebrating a throwaway. Simply stated, Joe wants to see America's Quarterback, Jameis Winston, willing to give up on third down when appropriate. It's a true art form mastered by great quarterbacks. And that includes running for six yards when it's 3rd-and-11. Joe wants Jameis to be Jameis, but evidence that his crisis decision-making is evolving would be a great thing.
Chris Godwin should have lots of work coming his way tonight. Joe just wants to watch the rookie receiver work and dream of what this 2017 offense might look like if Godwin really is special like Dirk Koetter says he is. The better Godwin plays, the more likely it is that the Bucs turn into a pass-first team, like Dirk Koetter's Falcons offense was in 2012.