Jacquizz: Feels Like 2012
August 24th, 2017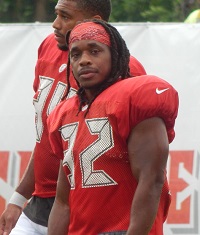 Once upon a time, Jacquizz Rodgers was a rookie running back relied upon heavily by playcaller Dirk Koetter in Atlanta — for a pass-first offense that marched to the doorstep of the Super Bowl.
Those Falcons had the 26th most rushing attempts in the NFL, and Rodgers was steady and solid with 94 carries for 362 yards and a touchdown. He also caught 53 balls on just 59 targets.
Joe talked to Rodgers yesterday about those high-flying Falcons and how they might compare to this team.
"You can't get a feel for our offense this year because we haven't actually played a real game yet. That's just how it is. Whatever is rolling and whatever is working, that's the direction Coach [Koetter] is going to take this offense," Koetter said. "If we get a bunch of explosive plays running the ball, then you're going to run the ball. I think we all know that and we didn't do that like we wanted to last year. Same thing for the passing game, if that's working, we'll be majority passing.

"Put it like this, with that same Falcons team, we've got similar weapons on this team right here right now. We're going to be very explosive this year."
Those Falcons had Julio Jones, Roddy White and Tony Gonzalez, who combined for a whopping 264 catches for 3,479 yards and 25 touchdowns.
They also had worn down running back Michael Turner in his final season.
The Bucs march into opening day with Mike Evans, DeSean Jackson and Cameron Brate/O.J. Howard, plus Rodgers and major question marks at running back. There's also the exciting potential of Chris Godwin and explosive wild card of Charles Sims.
Yeah, Joe would bet the Bucs lean big time on the pass this season, resembling the 2012 Falcons more than the 2015 Bucs.