5 Myths About The Stick Carriers
August 24th, 2017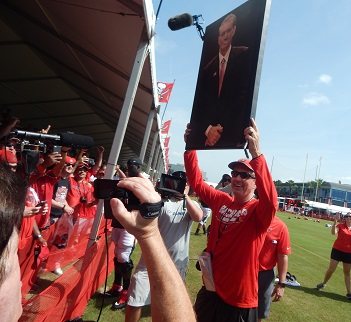 By now, most of you have heard about the Stick Carriers, the exploding new fan movement for hardcore Buccaneers fans that put about 2,000 extra fans in the training camp stands on "Takeover" day 2 1/2 weeks ago. It's real, strong and organized, and Joe has been around it since Day 1, but there are serious misconceptions out there. Here's a breakdown:
Myth No. 1 – Stick Carriers are just a bunch of dudes who want an excuse to get drunk while they wear Bucs gear and pretend they're cool.  TRUTH! There are female Stick Carriers, child Stick Carriers and plenty who don't yearn to get wasted and lit. Many Stick Carriers are accomplished, respected professionals. That's all been proven true at a wild April draft party, at the Training Camp Takeover (which actually was G-rated), and at a bash for the preseason opener.
Myth No. 2 – Stick Carriers is just a gimmick for Justin Pawlowski to make money on his wildly popular podcast, Bucs Uncensored. TRUTH! First, there is no membership fee to be a Stick Carrier and their never will be. Pawlowski has a thriving non-media career and Bucs Uncensored is just his hobby and passion. Sure, the podcast makes a few bucks, but it also takes over 50 hours per month to produce with its famous Bucs-fan takes included. The Stick Carrier movement was hatched organically through the podcast after Dirk Koetter ordered the Bucs to "speak softly and carry a big motherf**ck'n stick" in December. Pawlowski said Koetter's words doubled as a call to arms for Bucs fans everywhere to stand up, be heard, stop accepting negative BS from media and become the best damn fan base in the NFL. … Don't like Pawlowski and/or Bucs Uncensored? Blame Joe. A year ago Joe insisted Pawlowski go uncensored and R-rated here and let loose his unmatched Bucs passion, knowledge and love.
Myth No. 3 – The Bucs organization and team officials hate Bucs Uncensored and they're embarrassed by the actions and implications of the Stick Carriers. TRUTH! Dirk Koetter went out of his way to endorse the Stick Carriers back in June during an exclusive interview on the Ira Kaufman Podcast. Koetter even detailed exactly why he is "extremely fired up about the Stick Carriers." General manager Jason Licht has given his blessing publicly, and the Bucs organization has shown Joe and Pawlowski that they are eager to accommodate the movement and help it grow. Joe has even talked to Team Glazer about the Stick Carriers! Also, Bucs players have shared their appreciation of the Stick Carriers, and several player family members are active participants. Close relatives of DeSean Jackson, Jameis Winston and Ali Marpet are included, among others.
Myth No. 4 – Other Bucs fan groups and podcasters hate the Stick Carriers and think Pawlowski and Joe are giant, self-serving blowhards. TRUTH! That probably was true last year, but now, the organized fan groups — including What The Buc? — have come around after realizing the Stick Carriers, Pawlowski and Joe are completely serious about living a life filled with Bucs passion and creating a badass fan base. Pawlowski has formed a tailgate partnership with What The Buc?, with a goal of raising money for charity as a primary focus. The movement and motives are pure. Pawlowski was raised a diehard Bucs fan from before he could walk, and that shined through during his many years in local radio, including as a host on the Buccaneers Radio Network. As for Joe, well, most still probably consider Joe a blubbering blowhard. That's unlikely to change — and neither is Joe's commitment to covering the Bucs like no fan base has ever seen.
Myth No. 5 –  Stick Carriers only sit in Section 119 at Raymond James Stadium. TRUTH! Stick Carriers sit everywhere. There are no barriers. But Stick Carriers will have detailed pregame rituals together at home games — before the nonstop game cheering begins. … And it all starts Saturday night. Details are here via their Twitter account.
Enjoy the video below. Joe has more to say about the Stick Carriers. This was just a little primer leading into the first home game for the movement. … You can also find the Stick Carriers easily on Facebook.