45 Day Rehab For Doug Martin
August 18th, 2017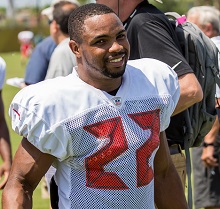 A little more insight into Doug Martin's journey back to health and football competency was revealed last night.
As the Buccaneers and Jaguars prepared to show themselves to the nation on a Thursday night edition of Monday Night Football, ESPN sideline reporter Lisa Salters shared some of her recent conversation with Martin.
Previously, unless Joe missed something, Martin hadn't served up much detail on his time spent in drug rehab. All Martin had said publicly was that he went to rehab and he had moved on from his troubles.
Salters said Martin told her he spent 45 days in rehab.
That's a pretty darn significant chunk of time. That's a real commitment. Was is at an in-patient facility, or was it an outpatient program? Joe can't say for sure. But if it was spent at a facility, that's quite an effort.
How serious Martin's problem was/is, Bucs fans will never know.
Joe was just glad to hear a report that Martin put in that kind of time.