"They've Earned The Right To These Expectations To Be Put On Them"
July 24th, 2017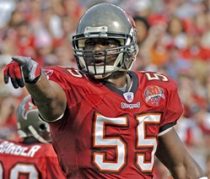 It seems Buccaneers icon Derrick Brooks is not in the Ronde Barber camp.
Barber doesn't see a corps of a badass winners on the Tampa Bay Roster. Brooks sees something else.
Last week on WDAE-AM 620, Brooks talked about how he's sticking to his prediction of the Bucs winning a playoff game this year.
Brooks also dove into the challenge that will come with Hard Knocks camera crews invading a team that is good and trying to climb the NFL ladder. Brooks is eager to see how the Bucs develop under a microscope and the weight of lofty goals.
"They've earned the right to these expectations to be put on them," Brooks said.
Obviously, Brooks thinks Tampa Bay has the talent, coaching and chemistry to win. Now it's about execution.
Brooks added that he'll be very focused on the coaching staff, particularly on defense, to see if the defense again can be the "special group" they were down the stretch of 2016.
Interesting! Brooks, referring to Mike Smith not getting a head coaching job, said he was "extremely shocked that didn't happen."