Ronde Barber Misses The Mark
July 24th, 2017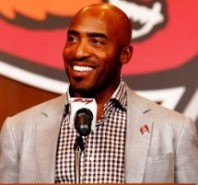 Leave it to mainstream media members to turn a simple piece of dough into a Bavarian pretzel.
Such is the 2017 world, where plainspoken commentary is too quickly misunderstood and maliciously twisted into something it's not.
We all read about how Bucs icon turned FOX-TV analyst Ronde Barber named Gerald McCoy among the non-badass Buccaneers in a weekend Tampa Bay Times story that specifically asked Barber about "badass" Bucs. It's all here.
Ronde even says the word "badass" twice.
"It's harder to get those guys now. I don't know, man," Barber told Martin Fennelly. "It's just different how guys approach the game. Money probably has something to do with it. These kids are stars from the outset, whether they've done anything or not. It's hard to find throwbacks, where you go, 'That guy is a badass.' Where do you find that now? It's such a show-off sport.

"Our nice guy on defense was a badass. (Former Bucs linebacker) Hardy Nickerson was the perfect gentleman away from football, but on the field, the guy was scary. How many times did he hurl spittle on someone? When I think of playing angry, I think of Hardware.

"Nobody like that jumps out on today's Bucs."
Read that last sentence one more time.
Ronde went on to name Gerald McCoy as a guy who didn't have the personality to drive a team from his position while stating that Jameis Winston "fits the mold." So Joe wrote a post about how Barber said McCoy is no badass, which in the real world is exactly what Barber said.
Pretty simple stuff.
Tampa Bay Times writer Rick Stroud even wrote an entire piece Monday morning assuming Tweets of great frustration from McCoy were direct reactions to Barber's comments.
Fast forward to a new Times story, also on Monday. Stroud caught up to Barber, who claimed his comments were sensationalized. Rather than point to his own story, Stroud linked to the JoeBucsFan.com headline, "Gerald McCoy Is No Badass, Says Ronde Barber," and hinted that Barber didn't like it.
"That anyone would assume I would say the best player on the defense isn't a bad dude is irresponsible and sensationalizing a quote to serve their own means," Barber said.
First, let Joe state that Barber is brilliant, an author and a scholar who knows exactly what comes out of his mouth. He knows exactly how impactful his words are when he's talking Bucs.
But Barber's comments absolutely were not sensationalized here — they were sensational the minute they came out of his mouth.
Franchise icons rarely call out current players from their former teams negatively in any way shape or form. So it certainly was a big deal when Barber said publicly that McCoy wasn't a winning/badass personality who could lead a team like Warren Sapp or John Randle.
Shame on Ronde for backpedaling.