Lavonte David: "It Is A Weird Day"
July 31st, 2017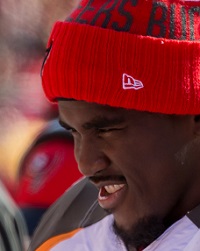 The drama of the first day of your Buccaneers in pads didn't materialize into a rousing morning of glorious football on the training camp fields of One Buc Palace.
The culprits were obvious: good sense, Mother Nature, and a turf surface softer than Joe's gut after a laying off beer and Abe's Place wings for a few days.
The rain was coming down steadily and t was clear the Bucs weren't looking to take a lot of risks, such as turning an ankle, tweaking a back or inflicting any pain. Sort of the opposite of how Jags head coach Doug Marrone is looking to grind his players into the ground.
In all, it was a tiny bit of a letdown in some ways, Lavonte David said.
"It is a weird day, but everybody was excited to come out here and get their work done, get some thumping in here or there," David told Joe. "Just trying to protect each other but get some good work done. I believe we did today."
Joe still has plenty to report out of practice, but it was just one of those days. The Bucs got in work but not quite what it would/should look like for the first day in pads.
After a day off tomorrow, the Bucs should be back in pads on Wednesday.