Jimmy Johnson Talks To Joe
July 25th, 2017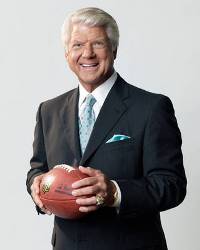 Joe is cleaning out his voice recorder of past interviews as we inch towards the start of training camp. This morning, Joe brings you the words of perhaps the most underrated football coach in America.
Two-time Super Bowl champion and college championship coach Jimmy Johnson gave Joe a brief moment to chat Bucs earlier this year. It is mind-boggling to Joe how Johnson, who built the 1990s Cowboys dynasty from scratch, is not in the Pro Football Hall of Fame. How Father Dungy got in before Johnson is one of the great mysteries of mankind.
Anyway, Johnson gave Joe a short breakdown on America's Quarterback, Pro Bowler Jameis Winston, as Johnson was racing between meetings, having finished one and running late for his next.
JoeBucsFan: I heard a story that you told a Bucs big-shot a year or so ago that to have success – this is your quote I heard you say to this source about Jameis Winston – "To win in the NFL you need a quarterback, you need a quarterback and you need a quarterback and you've got one."

Jimmy Johnson: Oh, I like him! He's a very talented individual. I think he is an outstanding leader. I think the biggest thing is, you've got to get the right supporting cast.

Joe: Is Jameis the type of quarterback you can build a lasting winner with?

Johnson: Exactly right!
Too bad Joe didn't have a video camera to catch Johnson's reaction — you know, TMZ style? — when Joe asked Johnson about Jameis. You should have seen his eyes light up. A hair or two seemed to come undone. That's how excited Johnson got to talk about Jameis.
Sadly, Johnson was late for an appointment and Joe had to do a drive-by interview, keeping pace on foot with the interview subject as he scoots away.
Joe cannot stand the Cowboys. Never could. But damn, Johnson could sure coach and knew how to pick players.
Oh, yeah, the supporting cast? As a commenter on JoeBucsFan.com said this morning in an earlier post, tool cabinet is full.