Chris Conte Is The Best Bucs Athlete?
July 14th, 2017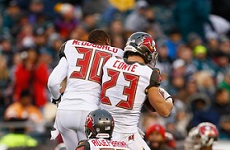 When disbelief compels Joe to rewind audio a few times after hearing a Bucs take, you just know Joe will write about it.
That happened yesterday.
Veteran Tampa Bay reporter Roy Cummings, who is part of the launch for a new site called PewterPirates.com, was talking Bucs yesterday on sports radio WDAE-AM 620 in prime time.
Cummings speculated that the Bucs are most likely to sign a safety in free agency this summer compared to any other position. In short, he said if they are looking to bolster a unit before opening day, then safety would be the top choice.
OK. Joe disagrees, but a case could be made.
Cummings was adamant that he's not down on the Bucs' safeties and he said fans might want to open their eyes when it comes to popular punching bag Chris Conte.
"Look, people want to beat up on Chris Conte all the time. But most fans don't realize he's easily one of the five best athletes, if not the best overall athlete on that football team," Cummings said. "And he's a pretty good player when he's healthy."
And that's why Joe hit the rewind button. Conte could be the best athlete on the roster? Whaaat?
Maybe Conte is the third best athlete in the secondary behind Brent Grimes and Vernon Hargreaves, both freakish athletes. Maybe. Even going back to the NFL Scouting Combine, Hargreaves and his 39-inch vertical leap was faster, quicker and more explosive than Conte at his Combine day.
Thinking further on the athlete discussion, Joe might put an additional seven Bucs ahead of Conte on the athlete scale.
And that's a good thing. If Conte is in the running for a team's best athlete, then that's not going to be a special team.