All Sunshine & Smiles From The Grimes Family
July 14th, 2017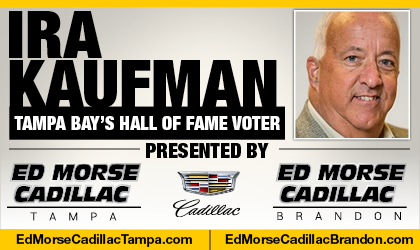 Ira Kaufman is the most beloved, revered and esteemed Buccaneers columnist in town. He has hung his hat at JoeBucsFan.com world headquarters for a full year. Tampa Bay's only Pro Football Hall of Fame voter, Ira busts out his columns here every Monday, Wednesday and Friday, and his award winning podcasts fire Tuesdays and Thursdays.
BY IRA KAUFMAN
The Twitter account of Miko Grimes has proven to be a provocative site.
The wife of Bucs cornerback Brent Grimes used the platform as a tool in prying her husband out of Miami, publicly questioning the skills of Ryan Tannehill.
When the Dolphins parted company with Grimes, owner Stephen Ross mentioned Miko's presence as a contributing factor.
That's the definition of clout.
When Tampa Bay signed Grimes as a free agent in 2016, I heard plenty of stories about her from NFL personnel and members of the media. The stories were not flattering.
"Brent's a good guy, but wait until you get a load of his wife," said one league executive. "Good luck with that."
But 17 months later, no one in Tampa can legitimately label Miko Grimes a distraction. She has gone out of her way to praise Jameis Winston and hasn't taken any potshots at the organization that signed her husband to a two-year deal.
For his part, Brent Grimes turned in a stellar first season with the Bucs, tying for the team lead with four interceptions while topping the league in passes defended. He will turn 34 next week having reclaimed his stature among the NFL's premier cornerbacks.
If his play doesn't drop off this fall, Grimes will make it difficult for the Bucs to let him hit free agency in 2018.
"It's a great place," Grimes says about the organization. "I like the way they run it, cool people. Obviously, I like the coaches. It's a good vibe. This is a close-knit group and everyone's comfortable."
Especially Miko.
Crikets
In a Sports Illustrated profile that was published this week, Miko Grimes didn't have one negative word to say about the franchise or her husband's teammates.
That's significant.
If she felt her husband was being disrespected by the Bucs in any manner, Miko would have gone public. She has learned to be a savvy manipulator in the realm of social media, but if you're looking for her to rip Dirk Koetter or Jason Licht, all we hear are crickets.
Of course, the sounds of silence could end this season if things go awry. That's why monitoring the remarks of Miko Grimes can give Buc fans a real sense of what's going on behind closed doors.
In Miami, she had no trouble pointing out the flaws of Tannehill, the eighth player selected in the 2012 draft. Despite Miko's criticism, the Dolphins remain committed to Tannehill, so it should be interesting to see how she is greeted in the stands at the Sept. 10 opener in Hard Rock Stadium.
Full Embrace
Belittling the starting quarterback is a surefire way to get your husband out of town. As a couple, Brent and Miko Grimes have talked Winston up as a future superstar.
"In Jameis, I see a guy who just loves to compete," Brent Grimes says. "He obviously has a lot of talent. He loves to try and get better and he wants to make plays. He's not trying not to lose — he's trying to win. I appreciate that. That's what you want out of your quarterback. The more he sees, the better he'll get."
So far, all warnings about Miko Grimes have been inconsequential. Instead of being disruptive, she has embraced her husband's new team and been quite supportive of the organization.
She's a fan of Jameis Winston, which makes her a fan of the Stick Carriers, who have welcomed her.
Like I said, crickets.