Chilling Video Of Former Buccaneers Defensive Tackle Brian Price
July 25th, 2017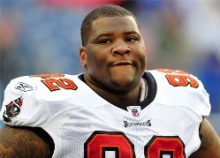 Joe was channel surfing tonight, landed on NBC Nightly News and saw this shocking video of ex-Bucs defensive tackle Brian Price.
Price has mental issues he believes are from football-related head injuries.
Joe recommends this in-depth video from a Michigan TV news station. It's a great reminder that there are fragile brains under those clashing football helmets.