Buccaneers Officially Swing A Big Stick For Simeon Rice's Hall Of Fame Candidacy
July 20th, 2017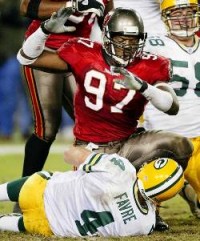 It's about damn time!
Joe has been calling for the big voices and the big guns to come out hollering and ranting and educating for the Buccaneers worthy of the Hall of Fame.
Guys like Father Dungy and Chucky haven't done nearly enough to prop up their ex-players for Hall of Fame induction, a too-political process that gets stickier every year as candidates worthy of consideration pile up.
The big name ex-Bucs also haven't been vocal enough, either, for their brethren like Simeon Rice, Ronde Barber and John Lynch.
That written, the love has to start at home.
So Joe is very pleased to see the beautiful "Canton Calling" piece done on Rice by Scott Smith of Buccaneers.com. Joe writes "beautiful" because the graphic presentation is fantastic and it makes you want to punch Hall of Fame voters in the face for ignoring Rice for so long.
Particularly, a graphic comparing Rice's achievements to those of Hall of Fame defensive end Michael Strahan is stunning, as is Rice's average of .7 sacks per game through his career, which leaves multiple Hall of Fame DEs in the rearview mirror.
Soak in the full feature here. It's worth at least a few minutes.
Last week, Joe transcribed Derrick Brooks speaking tactfully on SiriusXM NFL Radio on behalf of Rice, strongly implying that this year's DE inductee for the Hall of Fame, Jason Taylor, is no Simeon Rice.
What's next for Rice? He has to get past the preliminary vote and be a "semifinalist," which means get to the final 25, which is whittled down to 15 finalists that are actually presented for a vote in January.
Ira Kaufman delivered a hell of an education on Hall politics early this month on his podcast.