Television Siege
July 19th, 2017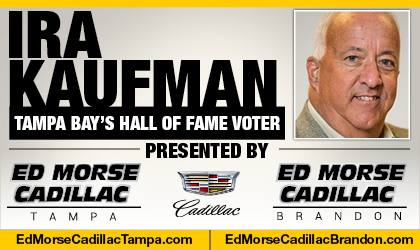 BY IRA KAUFMAN
Those Hard Knocks cameras will roll soon at One Buc Place looking for compelling story lines.
HBO considers itself a cutting-edge network, and you'd better be provocative if you're asking TV viewers to pony up extra cash for your programming.
This is the network that gave you a scathing documentary about Scientology, Chris Rock's no-holds-barred comedy specials and a dramatic look behind Phil Spector's murder trial.
HBO's crew will soon be headed to Tampa looking for footage that can captivate a wide audience. This edition of Hard Knocks isn't aimed at the Stick Carriers.
The premium cable network wants to attract millions of eyeballs, from Seattle to Sarasota. How do you spell must-see TV?
Jameis, Jameis, Jameis.
There's little doubt HBO cameras will be following Winston from sunrise to sunset, through rainy days and stifling heat. By the end of the series, you will know what Winston eats at the club cafeteria and where he likes to sit during team meetings.
My guess is Winston's national image will grow immeasurably in stature. Football fans in Pittsburgh will see his tireless work ethic. Browns fans will be heard in diners, asking each other, "Why don't we have a guy like that?"
But Winston won't be the only Buccaneer with an interesting story to tell.
Face Of The Defense
I've been around Kwon Alexander long enough to know Tampa Bay's fiery middle linebacker won't shy away from the camera. He's already the face of this defense, and by the end of training camp, he may be the face HBO viewers are talking about.
Unlike so many professional athletes, Alexander doesn't have a filter when you ask him a question. He speaks his mind and if he's not politically correct, so be it.
That's refreshing. That's honest. That's direct.
That's good TV.
HBO cameras will undoubtedly gravitate toward Ali Marpet, Tampa Bay's shaggy-dog offensive lineman from Hobart College. Marpet has quite a story to tell, and he tells it with flair.
He also has quite a family surrounding him, spurring him on, and if Marpet's inner circle happens to be on hand during camp, look out.
Big love coming your way.
Commandments In The Spotlight
And don't forget about the man pulling the strings in this sweaty ballet. If Dirk Koetter has a favorite John Lennon tune, it has to be the solo cut that begins, "We're playing those mind games, together."
What better way for Koetter to connect with his players than by sending them directives through Hard Knocks? From the kicking battle to the competition at safety, Koetter's words will have the feel of commandments.
Thou shalt not loaf. Thou shalt not bear witness against thy teammate. Thou shalt not steal the Glazers' money.
You get the picture
The Bucs say they didn't request to be the subject for Hard Knocks, and I believe them. It's a potential distraction that a second-year head coach doesn't need, especially when he's trying to end an organization's nine-year playoff drought.
But it's too late to stop those TV trucks from rolling to One Buc Place, so you might as well make the best of it.
Get ready for your close-up, Mr. Winston. Chill, Mr. Aguayo.
Ira Kaufman is the most beloved, revered and esteemed Buccaneers columnist in town. He has hung his hat at JoeBucsFan.com world headquarters for a full year. Tampa Bay's only Pro Football Hall of Fame voter, Ira busts out his columns here every Monday, Wednesday and Friday, and his award winning podcasts fire Tuesdays and Thursdays.