Fullback Lives At One Buc Palace
July 3rd, 2017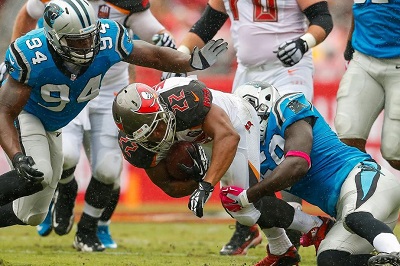 The Bucs really, really wanted a stud fullback last season. They even invested a sixth-round pick to get one.
That went to Dan Vitale, who quickly landed with the Browns after proving he couldn't block at the NFL level.
Man, Joe saw Vitale get blown up too many times and too badly. Wise move for the Bucs to throw in the towel.
But did they throw in the towel on having a dedicated fullback, period? Joe asked general manager Jason Licht about that in March at the NFL Owners Meetings in Phoenix. Licht was non-committal but said sometimes offenses evolve in that direction and that could be the case with the Bucs.
However, veteran fullback Austin Johnson is on the roster, and so is Quayvon Hicks, who was undrafted out of the University of Georgia last year and didn't make the Titans' roster.
Today's Real Rock Riley video report from One Buc Palace includes practice footage of the Bucs using a fullback this spring. It's here. First you'll see Johnson (No. 46) leading for Doug Martin, and then Hicks for Jacquizz Rodgers.
Of course, playing fullback is very much about contributing on special teams. Johnson has experience with the Saints and was a college linebacker.
It'll be interesting to see how the Bucs proceed. Tight end Luke Stocker has spent plenty of snaps as a fullback and he enjoys it, and the Bucs like him there — when he's not injured. But remember, they did draft Vitale last season.
Joe will say the Doug Martin faithful might want a true fullback on the roster. Martin has only thrived with one on the team (Erik Lorig, 2012, and Jorvorskie Lane, 2015).