5 Reasons This Isn't The 2011 Bucs
July 3rd, 2017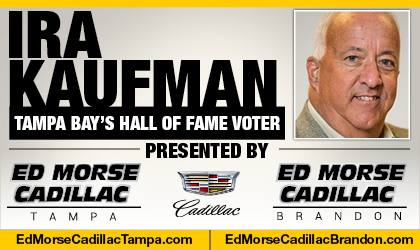 BY IRA KAUFMAN
Six years ago, your favorite football team pulled the old switcheroo.
Coming off a 10-6 season that fell just short of a playoff berth, the 2011 Bucs started off 4-2 before a tsunami washed ashore along Dale Mabry.
Nobody who was here in Tampa will ever forget the 10-game losing streak that gave the Glazers little choice but to jettison Raheem Morris.
But in that summer of 2011, Buc fans were excited. They thought they had themselves a franchise quarterback. So did the Glazers.
"Josh Freeman is a stud," Ronde Barber said after the Bucs closed out that 2010 season with a 23-13 victory at New Orleans. "The guy is awesome. It's a pleasure to be around a guy like that. It hasn't been that way here, ever."
OK, so Ronde isn't perfect. Even a five-time Pro Bowler can blow a coverage once in awhile.
The point is that same feeling of hype and anticipation surrounds the 2017 Bucs, who went 6-2 after the bye week last year. The Stick Carriers are geeked, as you can see for yourself Aug. 5 at training camp. Hard Knocks can't wait to give a national audience an inside look at a young, dynamic club on the rise.
But if this turns out to be just another mirage, another one-year wonder, there will be shattered sticks from Pinellas Park to Panama City.
Barring a major injury to Jameis Winston, I don't see this franchise going backwards this fall. Here are five reasons to believe this won't be 2011 all over again.
First, the man under center
"I don't compare this team to 2010 — and anybody who does is crazy," says right tackle Demar Dotson, the longest-tenured Buccaneer. "Let's start with the quarterback. I don't think Jameis is a guy who will get complacent. He's always hungry, always coming out here and working hard. He's just a born leader. He's not taking any plays off and he's not going to take a step back.

"It starts with that. He's doing the right thing in the locker room, the way he treats people in the facility and the way he approaches practice. He's so young, but you can't help but to follow him."
Winston exudes leadership. He's into football … Freeman was into snakes.
No. 2: Overall talent level
The 2010 Bucs engineered five comeback wins in overtime and the fourth quarter. Half their victories were by three points or less. Until that Week 17 triumph at the Superdome, Tampa Bay hadn't beaten an opponent with a winning record.
The 2016 Bucs ended Kansas City's 10-game home winning streak. They physically whipped the Seahawks and Saints at home before raucous crowds.
This current team has better players. A lot better.
The receiving corps for Freeman was Mike Williams, Arrelious Benn, Sammie Stroughter, Maurice Stovall and Micheal Spurlock, with tight end Kellen Winslow Jr. his primary target.
Are you kidding me?
The starting linebackers in 2010 were Quincy Black, Barrett Ruud and Geno Hayes.
Enough said.
Somehow, Freeman found a way.
"It's always difficult to see another young quarterback develop right in front of your eyes in your division," said Saints coach Sean Payton. "Now, it's Josh Freeman."
Those Bucs relied on Freeman because they didn't have much else. Everyone in the organization, especially the head coach, knew the score.
"Everything we do," Morris said, "we have to think, 'How does this affect Josh Freeman?' "
No.3: Offseason approach
Once the Bucs finished their race to 10, they relaxed and watched the rest of the division pass them by. Their big free-agent addition? Punter Michael Koenen.
He wasn't a bad punter, but c'mon, man.
The draft wasn't much better, with Tampa Bay selecting Adrian Clayborn and Da'Quan Bowers with the first two picks. One guy couldn't stay healthy, the other guy couldn't play.
This year's haul includes O.J. Howard, DeSean Jackson and Chris Baker.
No. 4: Coaching staff
By late in the 2009 season, Morris dumped Jim Bates and took control of the defense himself, even though he had never been an NFL defensive coordinator.
Overseeing the attack was Greg Olson, who has served five franchises as offensive coordinator without much distinction. Koetter is an adept playcaller while Mike Smith worked wonders with Tampa Bay's defense during a five-game winning streak that briefly gave the Bucs control of their playoff destiny.
No. 5: Veteran presence
When the wheels came flying off in 2011, Barber, Donald Penn and Jeff Faine couldn't prevent a crash landing. There's no more distasteful word in sports than "quit," but that team quit on Morris, and it was one ugly sight.
This Buc roster is stocked with veteran leaders like Gerald McCoy, Robert Ayers, Brent Grimes and Joe Hawley. Ayers has already proven he doesn't mind getting in a teammate's grill.
Those revolting memories of 2011 remain fresh around these parts, but Koetter's crew isn't intimidated by what went down. These gentlemen intend to make history of their own.
Ira Kaufman, the most beloved and esteemed Buccaneers columnist in town, has hung his hat at JoeBucsFan.com world headquarters since July 2016. Tampa Bay's only Pro Football Hall of Fame voter, Ira busts out his columns here every Monday, Wednesday and Friday, and his award winning podcasts fire Tuesdays and Thursdays.