Saints Sound A Lot Like Jameis
June 2nd, 2017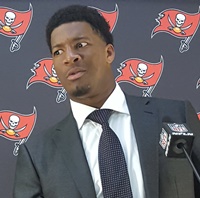 Who could forget the over-the-top glowing about running back Adrian Peterson this spring from America's Quarterback, Jameis Winston?
It was stunning. Jameis truly sounded as if training with Peterson transformed his football life.
And Jameis said he "absolutely" wanted to play with Peterson.
Of course, the Bucs didn't sign Peterson in free agency for a few million bucks to play this season. That honor went to the Saints and their powerhouse offense.
Many Bucs fans applauded; many Bucs fans groaned.
But what's interesting now is how Saints players are floored by how great 32-year-old Peterson is performing in spring practices, aka OTAs. This Times-Picayune story is stunning in its array of quotes from Saints players and the description of Peterson's feats of strength.
Also quite telling are the comments from the author, long-time beat writer Jeff Duncan.
This is my 20th year covering the NFL. I've long since grown accustomed to offseason hype. It arrives every June, just like the heat and humidity. But I've never heard players talk about a peer the way the Saints spoke about Peterson on Thursday.

This went beyond your typical, run-of-the-mill, pie-in-the-sky optimism. Players, many of which rank among the best in the NFL, spoke in reverential tones about his athleticism and were awestruck by his work ethic and drive.
Joe will just say this. The May/June hype for Peterson is as utterly worthless as the praise being heaped on Doug Martin by Bucs staff and players.