"Do-Or-Die" Season
June 2nd, 2017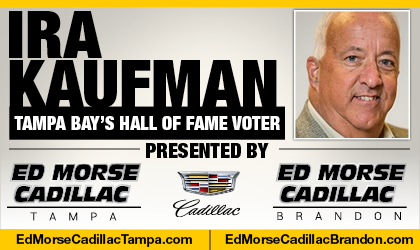 BY IRA KAUFMAN
The longest-tenured Buccaneer says fans should be prepared for the most intense training camp since Jon Gruden stalked the sidelines.
According to right tackle Demar Dotson, the action at One Buc Place will be marked by grueling position battles when players report in late July, led by the duel between kickers Roberto Aguayo and Nick Folk.
"This is a year we can take it to the next level," says Dotson, who joined the Bucs in 2009 and became a starter three years later when Greg Schiano arrived. "Our head coach is preaching that this can be a leap into the elite for us and guys are buying in. We've got great energy out here on the practice field … I can only imagine what training camp will be like.

"We've got so many positions with competition — even out there with the kickers. Everybody is locked in to see who's going to hit and who's going to miss."
I asked Dotson if this offseason reminds him of 2011, when the Bucs were coming off a 10-6 mark behind a young quarterback named Josh Freeman.
"I don't compare this team to 2010 — and anybody who does is crazy," Dotson says. "Let's start with the quarterback. I don't think Jameis is a guy who will get complacent. He's always hungry, always coming out here and working hard. He's just a born leader. He's not taking any plays off and he's not going to take a step back.

"It starts with that. He's doing the right thing in the locker room, the way he treats people in the facility and the way he approaches practice. He's so young, but you can't help but to follow him."
Tight Window
Dotson missed that 2010 season with a knee injury, but he has been a fixture up front for most of the past five years. Entering his ninth pro season, he realizes his time is growing short.
"I'm not getting any younger," he says with a smile. "When you're young, you are hungry to prove you belong. When you're older, you want to prove you still belong. This season is like do-or-die for me because there's nothing promised tomorrow in the NFL. One of my good friends, Gosder Cherilus, did nine years in this league and this is my ninth year. He couldn't do it anymore, so he retired. The good thing is I don't need to look ahead two or three years before we're winning. This team can win right now — and I want to make a run."
Dotson will have a new partner on the right side of the line as Ali Marpet shifts from guard to center. J.R. Sweezy, a high-profile free-agent addition in 2016, assumes Marpet's old spot after missing last season with a back injury.
"Ali is smart and willing to work," so I think he'll be fine," Dotson says, "but it's not going to come easy. J.R. seems like a fighter out there. I can't wait to put on the pads and see this guy in action. He looks very physical.
"It starts with the O-line and we've got to set the tempo around here. We've got to play better than we played as a unit last year, no question about it. We've got to open lanes for our running backs and we've got to protect Jameis because this team has a lot of dangerous weapons if we keep him clean."
Dotson has never experienced the thrill of participating in an NFL postseason game. He figures this is his time, after all the work he has put in and all the talent the Bucs have accumulated.
"It starts with Coach Koetter," he says. "He's putting together an atmosphere that's conducive to winning. We've got something to look forward to because we've got a young quarterback who is getting better by the day. Looking around at all this talent, anything short of the playoffs would be a big disappointment for this football team."
Tampa Bay's only Pro Football Hall of Fame voter, Ira Kaufman, the most beloved and esteemed columnist in town, has hung his hat at JoeBucsFan.com world headquarters since July 2016. His columns pop here every Monday, Wednesday and Friday, and his award winning podcasts fire Tuesdays and Thursdays.