Agent Of Change
June 12th, 2017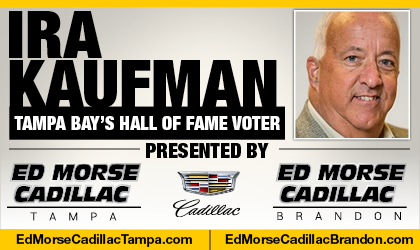 BY IRA KAUFMAN
Every NFL team needs a Robert Ayers.
In Dirk Koetter's manic quest for a bad-ass group of marauders, Ayers could serve as the poster child. Except he's no child … he's a grown-ass man.
When the 2016 Bucs were floundering at 3-5, guess who stood up in the locker room and said this garbage will not stand? When players complained that Mike Smith's defensive scheme wasn't a good fit for Tampa Bay's personnel, who told those malcontents to shut their pie hole and play ball?
That would be Mr. Ayers, whose piercing stare let's you know quickly that this is a guy you don't mess with.
"I don't really look at it as me being a leader," he says. "I personally view myself as a guy that, I go hard and my goals are just high. I don't believe in settling."
We all know what happened after Ayers and his teammates had a little animated chat during the bye week. The Buc defense had just been ravaged by Oakland and Atlanta, yielding 58 first downs, 1.087 yards and nine touchdowns.
In the final eight games, Tampa Bay's defense allowed only 13 TDs.
Ayers missed four games early in the season with an ankle injury and finished with only 6.5 sacks, three less takedowns than he registered in a career year with the Giants before hitting free agency.
But if Ayers didn't reach his personal goals last fall, he still made an impact on a young club learning how to win.
"I anticipate Robert to continue to be the type of leader that he's been," Smith says. "He's been very influential in bringing a toughness to our defense, and that's very important. We've got to continue to work on our toughness and our resiliency."
Good Hate
Expectations are high at One Buc Place, especially after encouraging off-season additions, but it won't be easy to end a nine-year playoff drought. There will be challenging moments, and when those hard knocks come, that's when a veteran like Ayers steps up to tell adversity to take a hike.
"The idea of another man being better than me at anything has always been something that I hate," he says. "The idea of another team thinking that they're better than us is just something that I hate. I really hate to lose. So enough was enough. I wouldn't give myself any credit for our turnaround. I don't know, we just got it turned around, I guess. I just want to win, man, and that's all it was about."
The last time the Bucs earned a postseason berth, Jon Gruden coached a veteran group dripping with leaders. When consecutive losses against the Lions and Jaguars dropped the 2007 Bucs to 4-4, they didn't sulk.
Instead, they responded with five wins in the next six games to right the pirate ship and claim a division title.
That club wasn't overly talented, but Tampa Bay benefited by veteran direction provided by Derrick Brooks, Ronde Barber and Kevin Carter. And while Gerald McCoy leads by example and Kwon Alexander is an emerging star, Ayers reigns as the nasty straw that stirs the drink.
"If you get used to losing, then it becomes the norm," he says. "If you get used to winning, then you don't accept anything else. I think we just needed to create an environment of winning, an environment of competing and challenging each other, pushing each other.

"That's what I think I kind of brought to the table, because I'm not afraid to say anything to anybody, no matter the stature or what their level of accomplishments are, or even a coach. I'm not afraid for you not to like me. I don't really care about being liked. I don't really care about opinions of me. I just want to win. So I think we kind of challenged each other and pushed each other to change things around here."
In the end, that's how Ayers will be remembered around these parts. He wasn't just a free agent.
He was an agent of change.