Perfecto!
June 13th, 2017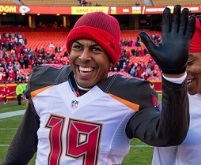 The epic kicking battle at One Buc Palace roared on today, this time before media and a couple hundred fans on Day 1 of mandatory minicamp.
Roberto Aguayo, well, he appeared to follow Dirk Koetter's orders: to speak softly and kick with a big MF stick.
Aguayo was perfect in five tries, ranging from what appeared to be 42 to 54 yards on the real goal posts, versus the skinny posts often used in practice. On the 54-yarder, there was room to spare.
Challenger (clubhouse leader?) Nick Folk went before Aguayo and finished what appeared to be the same five-kick circuit 4-for-5. Folk's lone try from about 55 yards hit the right post just above the crossbar.
Aguayo is not wilting, which is good news for the Bucs' kicking competition.