Jameis Hosts BBQ For Homeless Veterans
June 24th, 2017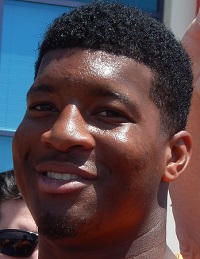 With each passing year, it becomes more and more clear how much America's Quarterback, Jameis Winston, genuinely enjoys helping people.
There's all the charitable stuff we see from Jameis, and there's plenty of stuff behind the scenes that we don't. It's impressive.
Buccaneers players are on vacation, but there's Jameis hosting a Tallahassee barbecue yesterday for homeless veterans.
Today, he's working at a free Florida State University middle school football camp.
There aren't a lot of 23-year-olds with Jameis' desire to lead and win and represent his franchise in the community.
Joe hopes more Bucs players, coaches and management follow Jameis' lead. There's so much power for good in their celebrity.