Bucs Marketing Wakes Up And Boasts
June 20th, 2017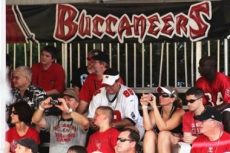 Finally!
Finally!
Finally!
Joe was applauding today driving down U.S. Hwy. 19 in Clearwater. A fist pump followed.
It was a sight to behold, a sign (literally and figuratively) that the Buccaneers realize it's time to start really selling their tremendous successes behind the scenes.
Joe has been sickened too long by the endless love Lightning owner Jeff Vinik gets on local sports radio. It almost feels incestuous. Hosts absolutely pour it on for all the positive things Vinik has done with his team and to support the community, and for excellent fan management and for enhancing the Bolts-fan experience.
Hey, that's great all great for Tampa and for Vinik. Joe appreciates Vinik's work wholeheartedly on all fronts.
Heck, if Mr. Vinik wants to own powerful media in town to promote his multitude of entities, JoeBucsFan.com would be happy to accept a check tomorrow and pledge allegiance to the Vinik team. Joe is a Vinik fan.
But what about the Buccaneers, the top-dog team in town?
During that highway drive, Joe saw an electronic Bucs billboard touting the team's mind-blowing success in customer service. The message "Ranked No. 1 Customer Service In The NFL" was followed by the years the Bucs brought home the gold: 2012, 2013, 2015 and 2016.
That success is not only one of the great under-reported sports stories in the Tampa Bay area and nationally, (Joe wrote all about it earlier this year), it's about damn time the Bucs realized it's an achievement to trumpet to the masses. It's a very intricate process by the NFL to grade teams, not an everybody-gets-a-trophy honor.
So much effort has gone into selling tickets, yet messages like this, the ones fans latch on to, the ones that create buzz and powerful feelings around town (subconsciously and otherwise), have been largely ignored far too long.
Again, Joe is so glad the Bucs have decided to invest in getting the word out on their fan-friendly dynasty.
Joe also hopes this marks the end of the misguided "Siege The Day" campaign, which replaced "It's A Bucs Life," which was lacking intelligent support for its message. What a golden opportunity wasted.
Marketing doesn't win football games. But you know what? Fans matter, and growing the Bucs' base into the most rabid and energized in the NFL is important.