The New Era Pillars
June 23rd, 2017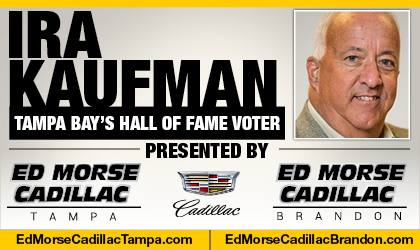 BY IRA KAUFMAN
There are building blocks and there are cornerstones. And make no mistake, there are millions of dollars in between.
Donovan Smith and Vernon Hargreaves are building blocks. Mike Evans, Jameis Winston and Kwon Alexander are cornerstones, special players who will lead you where you want to go.
Evans, the first draft pick turned in by Jason Licht as Bucs GM, has emerged as a superstar after three seasons.
He was the best Tampa Bay player in 2016, perhaps by a wide margin, and he should be even more dangerous with DeSean Jackson on the other side — even if some of his numbers decrease.
Evans, who doesn't turn 24 until August, could be in line to become the NFL's highest-paid wide receiver. He topped all wideouts last year by generating 81 first downs, 15 more than runner-up T.Y. Hilton, and he scored 12 touchdowns.
All things considered, I don't believe the Bucs would trade Evans for any receiver in the league.
Larry Fitzgerald will be 34 in August and Jordy Nelson is 32. Antonio Brown, Julio Jones, Dez Bryant and A.J.Green are all 28. Odell Beckham Jr., selected in the same 2014 draft as Evans, is bursting with talent but appears to be a head case.
When Winston found out Evans was ranked 29th on the NFL Network's Top 100 list, he just shook his head.
"I feel he should be in the Top 10," said Winston. "How much he means to me and this team is indescribable. He's an amazing player but I'm happy for him. I'm happy that he is a Top 100 player but to me, he's the No. 1 guy. He's the best receiver in the league. Julio Jones is going to be placed probably before him, but Mike is every bit of Julio."
A Pro's Pro
As a young, developing player, Evans has already shown the willingness to hold himself to a high standard. His sheer numbers in 2015 were impressive on the surface, but he knew he dropped too many footballs in Winston's rookie season.
So he went out and did something about it, focusing on his concentration and refining his technique.
That's called being a pro's pro. That's called looking at the man in the mirror.
That's called leadership.
"Two years ago, Mike had a 1,000-plus-yard season but he also had too many drops," said Dirk Koetter. "He really brought his drop number down. Mike is a guy that the defense has to honor, and a lot of defenses that we see, they double him.

"Mike's confidence is at an all-time high. Two years ago, I didn't think he and Jameis had great chemistry between them – I'm not talking about as people, just on the field – and that's come so far."
The Bucs already exercised their fifth-year option on Evans and there's no way he'll reach free agency in 2019. It won't be long before he and Beckham set new salary standards for the position.
The one legitimate criticism of Evans through three seasons is he has only seven receptions of 40 yards or more. He needs to be better after the catch and Winston needs to throw a better deep ball.
Jackson's presence should open things up a bit for No. 13.
"I'm not taking away any credit from the past receivers of my time, but I think Mike is obviously a freak of nature," Jackson says. "He is a very physical receiver who can still get down the field and make some big plays. Just having that combination with a speedy guy and a bigger guy, it's going to be interesting to see how it goes during the season. I'm excited about that … and I know he is as well."
Buc Ball Is Dead
You could make a compelling case that given Winston's age and potential, the Bucs wouldn't trade him for any young quarterback in the league — including Derek Carr and Dak Prescott.
And don't forget about the value of Kwon Alexander. Given Luke Kuechly's concussion issues, Alexander may have the biggest upside of any inside linebacker in the NFL.
Winston, Evans and Alexander, 22, are in the front lines of a new era of Buccaneer football. This isn't Buc Ball, when almost all the significant talent was on one side of the field.
If the additions of Jackson and rookie O.J. Howard trigger the most productive attack in franchise history, Evans will be in the thick of the action.
Evans and Winston will soon be wealthy beyond their wildest dreams as the Glazers open up checkbooks to keep them employed at One Buc Place.
Buc fans say bring it on. That's the price of doing business if you want to chase the Vince Lombardi Trophy. Cornerstones are expensive.
Pay the man.
Ira Kaufman, the most beloved and esteemed columnist in town, has hung his hat at JoeBucsFan.com world headquarters since July 2016. Tampa Bay's only Pro Football Hall of Fame voter, Ira's columns pop here every Monday, Wednesday and Friday, and his award winning podcasts fire Tuesdays and Thursdays.