Super Bowl Returns To Tampa In 2021
May 23rd, 2017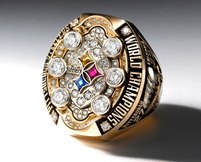 What a turn of events!
Local football fans — hopefully, Bucs fans especially — got quite a gift from NFL owners this afternoon.
With torrential California rains causing major construction delays and issues for the new Los Angeles stadium, which already was bestowed the Super Bowl in February 2021, a change in venue was required. And the NFL's biggest guns voted today to award the game to Tampa and the Stadium on Dale Mabry Highway.
Joe is pumped!
Ahh, the parties, the pageantry, and the parties, and the cool events across town, and the parties. But more important, what a chance this is for America's Quarterback, Jameis Winston, to shock the world and win a Super Bowl on his home turf.
It has yet to be done in NFL history.
That Super Bowl is 3 1/2 years away, but it's damn cool. And it says a lot for how highly regarded Tampa is a venue that knows how to run a high-quality, big-time event.
Man, Joe can envision Jameis hoisting his second Lombardi trophy in that season. Hopefully, that fantasy doesn't end with Jameis retiring early and attacking his boyhood dream of being a baseball star.