Rookie Minicamp Notes & Nuggets
May 5th, 2017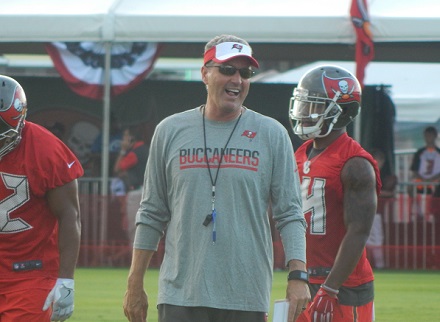 Fun, sun and underwear football this afternoon at One Buc Palace. Hey, Joe will take it in May. Cool stuff. Here's a little need-to-know from today's practice filled with tryout players, rookies, draft picks and undrafted prospects.
*First, understand that there is no contact, no pads or hitting.
*Joe has to give it up for 25-year-old wide receiver Derel Walker, Mike Evans' good friend from Texas A&M. The CFL star signed this spring by the Bucs looked damn good out here. The dude is long and athletic, and he was catching everything from all angles. Nice Day 1. He had a shot at a 40-yard bomb late in practice but couldn't hold on.
*The heralded rookie weapons, tight end O.J. Howard and receiver Chris Godwin? They were spotty. Joe's got some ugly drops on film that Joe will share later. Hey, it's a first day.
*Riley Cooper has looked sure-handed and smooth, but shoudn't he? The guy's nearly 30 years old and has 169 NFL catches under his belt.
*Lots of drops everywhere. Perhaps it was the stiff wind, or balls coming from unknown quarterbacks. Whatever. Pittsburg State wide receiver Levi Copelin had an especially rough day. FSU wide receiver Bobo Wilson and UTEP receivers Cole Freytag also had drops.
*Safety Justin Evans sure moves well. Again, it's drills. But he moves. He's lively, and he has good hands. Even in underwear football running plays, Evans seemed to be dancing the line of contact more than what's approved, which is none. Joe loves the aggression.
*Nice breakup Richie Brown, Mississippi State linebacker, an undrafted free agent.
*Joe hears an assistant receivers coach yell "horrible!"
*Some solid coverage from Christophe Mulumba Tshimanga, tryout linebacker out of Maine.
*Godwin getting screamed at — in a good way — getting coached up on hand work at the line of scrimmage.
*Bobo Wilson with very solid work catching punts in a stiff wind. Undrafted free agent cornerback Jonathan Moxey was an adventure.
Stick with Joe for more from rookie camp all weekend long.