Roberto Aguayo Kicked Again Today
May 25th, 2017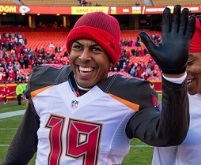 Yes, there was kicking again today — in front of media — at One Buc Palace.
Roberto Aguayo vs. Nick Folk. Oh, the drama after Tuesday's wild action.
Aguayo opened a lot of eyes missing 3-of-4 field goals under 40 yards into the skinny posts Tuesday. Folk then waltzed up and drilled four in a row — all with confidence.
Today, the duo battling for a job was kicking to the real goal posts on the One Buc Palace practice fields. Folk was a cool and powerful 5-for-5, with the farthest from what appeared to be 40 yards.  His kicks were right down the middle.
Aguayo's kicks were a little less sure, and he made 4-of-5, with one possibly a miss left from the right hash mark from what appeared to be 35 yards. There was no consensus among media whether it was good or not.
#MakingKickingRelevantAgain