"You Probably Got Shot Down By Some Hot Babes"
May 2nd, 2017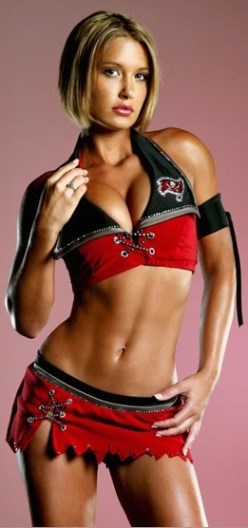 The head honcho of the Bucs got his point across.
Appearing on "Good Morning, Football," seen on the NFL Network co-hosted by Kyle Brandt, Peter Schrager, Nate Burleson and Kay Adams — without her porn glasses today ("Don't ask me about my business, Kay"), Bucs AC/DC-loving general manager Jason Licht made an appearance and took a novel approach to get his point across.
And it worked!
Speaking about the upcoming "Hard Knocks" series this summer in which the Bucs will be featured on the NFL Films-produced HBO reality series, Licht delved into the popular yet sensitive area of the show where general managers often have to break the news to prospects that their NFL dreams are dashed.
Licht tried to explain to Brandt, a former soap opera actor, Princeton running back and past reality TV star himself, what it's like for a player to be told he's not wanted by an NFL team.
"You were on reality TV," Licht pointed out to Brandt. "You probably got shot down by some hot babes. This is no different but it's a little bit more of a dagger to their heart."
To this, the GMFB set erupted and Brandt sheepishly smiled and nodded his head as if to say, "Yeah, got shot down in flames before by the busty blonde."
Licht went on to say that for the players that are cut, there are still opportunities in the NFL, but perhaps not with the Bucs and the players have to keep that in mind and the Bucs have to make sure to emphasize this to the jilted players.
"We have to be ourselves," Licht said. "We have to be genuine and up front with them like we always are."
You can view the clip below.
"He has looked as good as I have seen him" @TBBuccaneers GM @jasonrlicht discussed RB Doug Martin & the Bucs backfield #GMFB pic.twitter.com/3tagfrghH2

— GMFB (@gmfb) May 2, 2017