Less Holes, More Questions
May 1st, 2017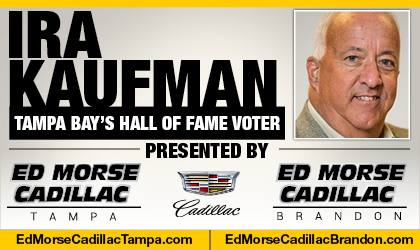 Tampa Bay's only Pro Football Hall of Fame voter, Ira Kaufman, and the regions most beloved and esteemed columnist, has hung his hat at JoeBucsFan.com world headquarters since July 2016. His columns pop here every Monday, Wednesday and Friday, and his award winning podcasts fire every Tuesday and Thursday.
BY IRA KAUFMAN
Before we hand the Buccaneers the Vince Lombardi Trophy, let's pause for a moment.
In the words of Jason Licht, no NFL general manager is going to publicly say he had a bad draft weekend. And any draft that starts with O.J. Howard tumbling into your mitts at No.19 can't be bad.
The additions of Howard and DeSean Jackson in the offseason have given Jameis Winston the most dangerous array of targets any Buc quarterback has ever had the pleasure of throwing to.
There are potential mismatches everywhere, but as Dirk Koetter was quick to remind us when the draft concluded, potential can get you beat.
Koetter knows he'll have fun designing plays for Mike Evans, Jackson, Howard, Cameron Brate, Adam Humphries and Chris Godwin. He also knows defenses will have answers — unless Winston can be protected well and the ground game improves dramatically.
Those are two areas of concern that were hardly addressed in the draft.
All Buc fans heard this weekend was a glowing endorsement for Doug Martin's redemption tour. Let's be honest — if Tampa Bay scouts were over the top for Jeremy McNichols, the Bucs wouldn't have waited until pick No. 162 to select the Boise State standout.
Ignoring The Trenches
Fifth-round running backs have surprised at the pro level, but the odds are stacked against McNichols making it big.
And won't Winston need time to find all these weapons downfield?
Licht and Koetter kept telling us they liked the makeup of the offensive line. Then they backed up that view by ignoring the trenches.
I still think Tampa Bay is thin at tackle, where starting left guard Kevin Pamphile looms as the primary backup if Donovan Smith or Demar Dotson is sidelined.
On defense, the Bucs added a safety with tackling issues, a linebacker coming off knee surgery and a run-stuffing defensive tackle.
In other words, the pass rush will have to make do with what they have. I'm not sure it's enough.
I keep thinking back to December, when the streaking Bucs were 8-5 and in charge of their own playoff destiny.
Then they faced Dallas and New Orleans on the road … and we know what happened.
Ezekiel Elliott ran wild and fellow rookie Dak Prescott picked Tampa Bay apart in a 26-20 Cowboys victory. The next week, only 13 days after shutting down the Saints completely in Tampa, Drew Brees was barely pressured in a 31-24 triumph that left the Bucs playoff chances on life support.
Has anything really changed?
I know Florida State defensive tackle DeMarcus Walker was considered a tweener by some scouts, but every time I watched the guy he made plays. Quarterbacks were either on the ground or running for their life.
Walker was sitting there at No. 50, but the Bucs instead chose Texas A&M safety Justin Evans. Five minutes later, the Broncos pounced on Walker.
Licht was hampered a bit because the Bucs had only six picks. That's not enough to address every need.
Dangerous With Depth Issues
For example, Licht didn't have enough choices to grab another prospect to compete at slot corner — a key position in a division loaded with stud quarterbacks.
"You want to get the best value that you can over your colleagues," Licht said. "That's why it's the greatest three days in my professional career during the year. It's fun. It's a big rush."
The real rush will come when the Bucs end a nine-year playoff drought that has tested the patience of their fan base. And while Tampa Bay boasts a lot of young talent, especially on offense, the Bucs may struggle up front on both sides of the ball.
Unless Noah Spence turns in a dynamic season, the Bucs will likely still be looking for their first double-digit sacker since Simeon Rice left town. Questions remain about an offensive line that must deal with Ali Marpet's transition from guard to center.
If it's what's up front that counts, the 2017 Bucs have the look of a dangerous club with some depth issues. If the trenches hold up, this group could be playing well into January.