Jeremy McNichols' Bucs Ties Run Extra Deep
May 1st, 2017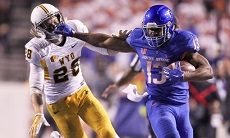 The Buccaneers' new rookie running back, the guy 96.9 percent likely to replace Doug Martin this year, has a much deeper connection to his new team than most fans know.
After the Bucs snagged him in the fifth round on Saturday, McNichols told KTVB-TV in Idaho about some of his Bucs ties.
It turns out his exposure to Martin, a Boise State star like McNichols, was more than just a one-time meeting.
"We actually just met this spring," said McNichols when asked about his relationship with Martin. "We've been in communication a little bit, and he called me today. He's excited and I'm excited."

"I'm going to be able to learn from him. He's a former Pro Bowler," McNichols continued. "We went to the same college and we played in the same system. I think I can learn a lot from him to be honest with you."
Martin's former teammate at Boise State, Antwon Murray, works in the Bucs' scouting department, a job he accepted last year. Murray's last job was recruiting director at Boise State, so he knows McNichols well.
McNichols, 21, added, "I know DeSean Jackson pretty well." … That surprised Joe. There must be some sort southern California connection there.
And of course, Dirk Koetter has all kinds of ties to the Boise State program, where he was head coach at the beginning of this century.
The reality is McNichols was the 17th running back drafted this year in a deep class of backs. That's not impressive, but he was a damn impressive college football player and the Bucs considered him a bit of a steal, according to their scouting file.
It's going to be a huge preseason for McNichols, as the Bucs figure out whether he has the goods to start on opening day in Miami.