"Household Name" In Round 7
May 3rd, 2017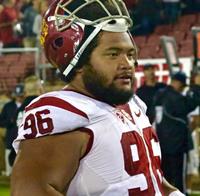 Wait a minute. Did the Bucs really trade up to get a gargantuan steal (literally and figuratively) in the seventh round of the NFL Draft Saturday?
Washington Post writer/professional stats tribesman Mike Renner thinks so.
Renner sees 6-1, 330-pound defensive tackle Stevie Tu'iklolavatu out of the University of Southern California as a rare space eater who could become a renowned presence.
Renner labeled the newest Buccaneer one of five late draft picks most likely to become NFL stars.
While you'd be hard-pressed to find any nose tackle around the league currently classified as a "superstar," Tu'ikolovatu has all the skills necessary to become a household name. In his final season at USC, Tu'ikolovatu was easily the highest-graded defensive lineman in run defense, trailing only Stanford's Solomon Thomas nationwide in that respect (Thomas was drafted No. 3 overall by the 49ers). At nose tackle, not losing is usually more important than making plays, and Tu'ikolovatu was downgraded only 19 times all season in run defense – fewer than two times per game. The only issue with the USC defensive tackle is his complete inability to rush the passer. He collected all of 13 pressures last season on 327 pass-rushing attempts. At the NFL level, though, that's far less of a concern, as he likely won't be seeing the field in any sort of pass-rushing situation.
General manager Jason Licht made it clear that Tu'iklolavatu is a "two-down" player, which means he's a backup behind Clinton McDonald and newcomer Chris Baker.
But it will be awfully interesting if Tu'iklolavatu can translate his massive girth to the NFL stage. A true run-plugger can be awfully valuable in spot duty.
As for Tu'iklolavatu becoming a "household name," well, he better find a nickname in a hurry.