Trenches-Ready Tu'iklolavatu
April 6th, 2017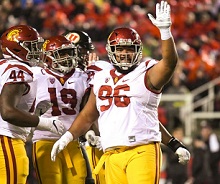 You just knew Joe would have a soft spot for drafting a quality football player who thrived playing at 6-1, 350 pounds last season.
Throw in that the guy lived in his car for a while — at that size — and, well, Joe is damn impressed.
Joe's talking about University of Southern California defensive tackle Stevie Tu'iklolavatu. He's slimmed down now to 330 and last night USC head coach Clay Helton raved about him on SiriusXM NFL Radio for being a a plug-and-play NFL prospect.
Tu'iklolavatu is a unique story, a married guy who turns 26 this summer. His football career was delayed by charitable missions.
Regarding living in a car, Tu'iklolavatu couldn't get housing at USC until his transfer from Utah was official. The LA Times wrote a neat story on it. Here's an excerpt:
They settled into a routine. At dawn, they'd work out in the sand. Then Kalo would drop him off at USC while she hunted for a job. At around 5 p.m., she'd pick him up.

Kalo outfitted the car with shower curtains to keep out the sun. They showered at the beach. They found a favorite spot atop a parking garage in Huntington Beach, where they could wake early to view the sun rise over the Santa Ana foothills and bathe in the sprawl of Orange County.

On weekends, they'd work out early, then spend the rest of the day swimming or exploring. "We were basically all around the coast," Kalo said. "We were little hippies."

Toward the end of the day, they'd buy meat from a Dollar Tree and barbecue on the beach, using a grill Tu'ikolovatu had rigged from an aluminum-foil pan, pieces of wood and lighter fluid.
(There's much more in the piece linked above.)
Coach Helton confidently says Tu'ikolovatu's game is as mature as his age. He was the pulse of the USC defense, Helton said, and he's NFL-ready because of his seasoning and savvy, in addition to his strength. Tu'ikolovatu's uncle, Sione Pouha, played seven years at defensive tackle with the New York Jets.
Tu'ikolovatu is considered a powerful NFL-caliber run stuffer with surprising agility and the necessary strength. He's widely projected as a third-day draft pick, perhaps a sixth-rounder.
The Bucs could use a guy like Tu'ikolovatu to fill the loss of Akeem Spence, and to help get the team younger on the interior of their D-line. Newcomer Chris Baker, Gerald McCoy and Clinton McDonald have 23 seasons of combined wear on them.
Besides, who wouldn't want a Tu'ikolovatu jersey?