Dungy = Odd Man Out
May 31st, 2017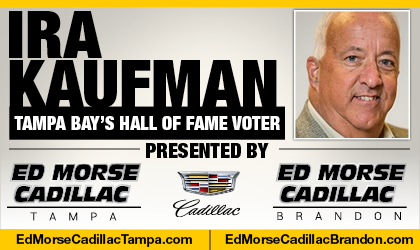 Tampa Bay's only Pro Football Hall of Fame voter, Ira Kaufman, the most beloved and esteemed columnist in town, has hung his hat at JoeBucsFan.com world headquarters since July 2016. His columns pop here every Monday, Wednesday and Friday, and his award winning podcasts fire Tuesdays and Thursdays.
BY IRA KAUFMAN
Put a Ring on it.
The curious relationship between the Buccaneers and Tony Dungy took another strange turn with the announcement of this year's Ring of Honor recipients.
And while there's no doubt Malcolm Glazer and Jon Gruden belong up on that eastern stadium façade, along with the franchise's other icons, Dungy once again finds himself the odd man out.
Although Dungy has too much class to publicly question the decision by the Glazers, Tampa Bay's godfather has every right to think to himself: they've got me waiting in the lobby.
When is this man going to get his due?
Elsewhere on this prestigious site, you've read glowing reviews about Gruden's accomplishments in Tampa and how his selection was a no-brainer.
But as you well know, this column often challenges the prevailing wisdom, so here we go again.
Wrong Audible
The first coach hired by the Glazer family turned out to be a Hall of Fame coach. And while Dungy lifted the Vince Lombardi Trophy with Indianapolis, he did his best work in Tampa.
Have we all forgotten what a mess Dungy inherited in 1996?
The Bucs were a national joke, a moribund franchise going nowhere. Apathy reigned at the old sombrero but a rookie coach needed only nine games to turn everything around and spark ticket sales.
By the end of the '96 season, the Bucs were doormats no longer. Besides building a dominant defense, Dungy was a driving force in the community, imploring his players to help make Tampa Bay a better place to live.
Charitable foundations sprouted up, led by players like Derrick Brooks and John Lynch. The Bucs were suddenly a source of civic pride.
The Glazers make the call when it comes to the Ring of Honor, and that's their right as the guys who sign the checks.
But it appears they have called an audible in terms of their own protocol.
When Warren Sapp earned a bust in Canton in 2013, he was inducted into the Ring of Honor that fall. No questions asked– even though Sapp played his final four seasons for the Raiders.
The same scenario took place the following year, when Brooks joined Sapp in the Hall, then immediately entered the Ring of Honor.
But that same courtesy was not extended to Dungy in 2016.
Drained The Swamp
Bryan and Joel Glazer attended Dungy's Hall of Fame induction ceremony last August, but the Bucs did not add an additional Ring of Honor day for Dungy … after having already named Lynch as a new member.
Now Dungy has been bypassed once again.
It's fitting that the Bucs and Gruden have mended fences since Chucky was fired after the 2008 season. Gruden still lives in Tampa and follows the Bucs closely, but he keeps his distance from the facility.
Tampa Bay has enjoyed only two winnings seasons since Gruden was dismissed following consecutive 9-7 finishes. He is also the last coach to lead the Bucs to the postseason, so his place in franchise history is secure.
That Monday night game against Atlanta will be an event, with 157 ESPN cameras on hand to mark the occasion.
Until Malcolm Glazer was incapacitated by two strokes in 2006, the Bucs were 96-80 in his first 11 years as principal owner, including a Super Bowl title. From 2006 until 2015, Tampa Bay was 58-102.
Draw your own conclusions.
Glazer and Gruden are inextricably liked by that championship season, but Dungy happened to be very close to Malcolm Glazer.
In his Hall of Fame acceptance speech, Dungy singled out the late Buc owner for special praise.
"I'm especially grateful to Malcolm, who was so supportive and so loving and gave me so much practical advice," Dungy said on that memorable evening in Canton. "Our family enjoyed a phenomenal six years in Tampa and 1997 was probably my favorite year in coaching.

"We made the playoffs for the first time in 15 years and Buc fans went crazy. Those fans still remain special to me to this day."
There's little doubt Dungy will have his day in Tampa. It may come next year, or the year after that, and when it comes, supporters surely will show their appreciation for the man who literally drained the swamp at old One Buc Place.
Make no mistake, Jon Gruden and Malcolm Glazer are worthy recipients of the Ring of Honor. But let's not forget about the man who restored honor to an organization that needed it so badly.