Brent Grimes Returns To Practice
May 31st, 2017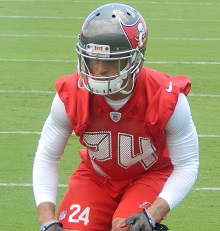 Perhaps one of the goofiest moves by NFL teams is limiting media coverage of spring practices, aka OTAs.
Here's the logic: If you're going to invite media in to some sessions but not all, then the media definitely will get an inaccurate perception of what's happening — and then pass that on to fans. If the point is to keep the media engaged and educated — and sharing with tens of thousands of diehard fans — then just open all the practices. It's a no-brainer.
Without seeing all the underwear football work, Joe and others lose a ton of perspective.
That written, the Bucs practiced yesterday and Joe has little to share and little news has leaked out. However, stud veteran cornerback Brent Grimes, who skipped earlier OTA practices, was seen in Tuesday's highlights on Buccaneers.com. It's right here. Grimes looks intense in a drill and appears to be displaying his cat-like quickness.
So there's something. And it was damn exciting to see.
The next Bucs practice open to media is tomorrow at One Buc Palace.