Bottom-Line Call
May 29th, 2017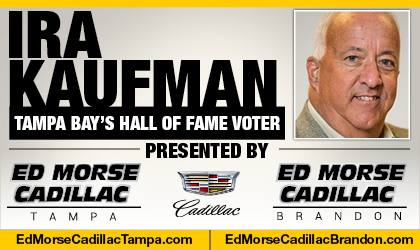 Tampa Bay's only Pro Football Hall of Fame voter, Ira Kaufman, the most beloved and esteemed columnist in town, has hung his hat at JoeBucsFan.com world headquarters since July 2016. His columns pop here every Monday, Wednesday and Friday, and his award winning podcasts fire Tuesdays and Thursdays.
BY IRA KAUFMAN
On the same day the NFL threw Tampa a bone, owners offered us some kibble.
At last week's spring meeting, the Bay area was awarded the 2021 Super Bowl, originally voted on for Los Angeles. Record rainfall in southern California has delayed construction on a new stadium for the Rams and Chargers, allowing Tampa Bay to swoop in.
But when it came time for Rich McKay's Competition Committee to get into the act, a situation comedy broke out.
Commissioner Roger Goodell, citing safety issues, announced that owners agreed to shorten regular-season overtime from 15 minutes to 10.
Goodell said the overriding reason for the change was an effort to minimize the wear and tear on players.
Safety, safety, safety.
Bollocks, bollocks, bollocks.
"We think this is an important change, particularly for teams that may be into a lengthy overtime situation that may have to come back and play on a Thursday night, so this is another positive change," said Goodell.
Roger that.
If safety issues are indeed paramount, the league would be seriously considering dropping Thursday Night Football — but we all know that's not going to happen.
Too many network dollars are at stake for the NFL to acknowledge that playing two games within a five-day span represents a far bigger risk than squaring off for an additional 12 snaps.
So why did owners choose to shorten overtime?
The Real Health Concerns
My guess is TV networks applied pressure on their partners to end games more quickly because exceedingly long matchups were messing with their prime-time programming.
In other words, the real health concerns are the health of the network bottom lines. It's not personal, Roger, it's strictly business.
No Stick Carrier that I know enjoys tie games. And it stands to reason that we will be saddled with more deadlocks under these new guidelines.
"I would disagree with the rule change because more games are going to end in ties now," Drew Brees said on "The Dan Patrick Show."
Goodell said we shouldn't jump to conclusions.
"What we believe is we play to win," said the real commish (sorry Justin). "I think fans would love to see a winner. Will it lead to more ties? We don't know, but we don't believe so. We think we have a very good format and this is an improvement to that."
Since 2012, 83 regular-season games have gone into overtime, ending in ties only five times. It wouldn't shock me if we get five ties this fall.
This would be a good time to set the record straight on the ill-conceived notion that last year's Bucs-Raiders game would have ended in a tie instead of an Oakland win if the new overtime rule was in effect.
No Big Deal?
While it's true that the score in Tampa was deadlocked when overtime crossed the 10-minute mark, the game would surely have been played differently.
For instance, the Raiders were at midfield facing 3rd-and-17 with 5:37 remaining in overtime. Derek Carr then hit Michael Crabtree for 10 yards and Oakland punted with 4:44 left.
If that overtime session had been reduced to 10 minutes instead of 15, the Raiders would have approached the third-down play quite differently, knowing they were not going to get another possession.
Bucs coach Dirk Koetter isn't losing any sleep about the new overtime rules.
"The NFL has invested a lot of time and money into player safety and their research shows that this is aimed at player safety," he said. "I think the analytics show that this will only create one or two more ties per season. When you look at it like that, it maybe isn't the biggest deal in the world."
Buc fans can only hope Koetter feels the same way in January.