A Year For The Real Lavonte David
May 12th, 2017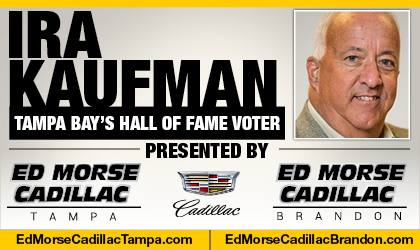 Tampa Bay's only Pro Football Hall of Fame voter, Ira Kaufman, and the regions most beloved and esteemed columnist, has hung his hat at JoeBucsFan.com world headquarters since July 2016. His columns pop here every Monday, Wednesday and Friday, and his award winning podcasts fire every Tuesday and Thursday.
BY IRA KAUFMAN
Give the man credit for being honest.
Lavonte David says he wants no part of Hard Knocks. Maybe that's because he's already had his fair share.
In some ways, it's been a bit of a bumpy ride for the former Nebraska standout since the Bucs traded up to grab David in the second round of the 2012 draft. Tampa Bay promptly lost 45 of its next 64 games before last year's breakthrough.
Nobody is mentioning David's name in the same sentence as Hall of Famer Derrick Brooks these days. No shame there.
Those comparisons were never fair. Brooks is arguably the best player in franchise history, a once-in-a-generation linebacker who rolled into Canton unopposed.
So if David isn't the second coming of No. 55, who is he? A good player who wants to be special.
By his own admission, David did not play up to his standards for most of last season, especially early. There was a Week 2 matchup at Arizona when he failed to show up on the postgame stat sheet in a 40-7 debacle.
Zeroes across the board … as if he had never made the trip. Unthinkable.
Surge Was Real
But as the year progressed, David closed with a rush. Four of his five overall sacks came in the final three weeks as first-year defensive coordinator Mike Smith discovered what Buc fans already knew … David can be very effective hounding quarterbacks off that right edge.
"We want to see growth in all areas of the game," Smith said this week. "Lavonte, I think, at the end of the year really came on as a pass rusher. He became more effective as a pass rusher and we were able to design some things to allow him to get in a charge and rush the passer."
In 2013, only his second pro season, David emerged as a stat monster. He finished with 7 sacks, 5 interceptions and 2 forced fumbles, and when yet another disappointing year ended with a coaching change, the Bucs had themselves a young, All-Pro outside linebacker.
It was quite a comeback for David, who experienced his low point as a professional in the 2013 season opener. Buc fans can still see David applying a late hit out of bounds against Jets quarterback Geno Smith in the final seconds, with Tampa Bay clinging to a 17-15 lead.
That brain fart and subsequent 15-yard penalty set up a game-winning 48-yard field goal by Nick Folk, who will have every chance to beat out Roberto Aguayo and win Tampa Bay's kicking job this fall.
The shocking loss in the Meadowlands set the tone for a 4-12 season that cost Greg Schiano his job. Credit David for overcoming that gaffe. By the summer of 2015, the Bucs offered him a five-year contract extension worth $51.5 million, with half the money guaranteed.
I asked David whether he holds himself to the same standards as Gerald McCoy, a five-time Pro Bowl defensive tackle who says he needs to raise his game to the next level.
"As athletes, as competitors, you always want to be great," David said. "You always want to be great at your position. Last year I didn't have my best year, so I just want to be able to get better and get back to my old self."
To be fair, David played through injuries last year. He hurt his shoulder early in the season and his hamstring was tender during the December playoff push, but David wasn't going to tarnish his reputation for durability.
In five years, David has failed to post only twice.
Day 1 Focus
He finished the season strong and he's well aware that Tampa Bay's 9-7 record has the stick carriers up in arms.
"Each year, expectations get higher and higher," David said. "From last year, the first winning season since I've been here, this upcoming season has to go even better. The main goal is for us to win this division and get to the big dance and make the Super Bowl. I'm sure everybody in the locker room has that same expectation and we're ready to take on the challenge."
David grew up in Miami and when the regular-season schedule was announced last month, he couldn't believe the Week 1 matchup … on the road against the Dolphins.
"Not only is that my hometown, but I've never played against Miami before back at home, so it's going to be amazing," David said. "I've already had people calling me about tickets. It's going to be electrifying, it's going to be fun. I'm looking forward to it. I know my family is looking forward to it. Also, going down there and setting the tone on where we want to be as a football team is going to be really cool."
And if David levels Ryan Tannehill with some hard knocks along the way, even better.