Losers Need Not Apply
May 5th, 2017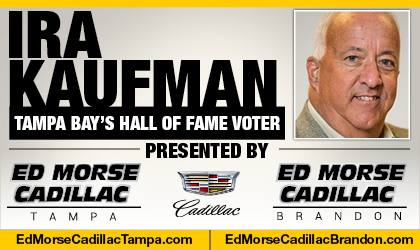 BY IRA KAUFMAN
Everyone from Dirk Koetter to Port Richey Lou is aware of the potential doomsday scenario for the 2017 Tampa Bay Buccaneers.
In the immortal voice of Howard Cosell: "Down goes Winston, down goes Winston."
Buc fans don't even want to think about the consequences if their franchise quarterback is sidelined this fall, but the movers and shakers at One Buc Place are paid a lot of money to consider all options.
And right now, as the Bucs head into their spring conditioning programs, Winston's two backups have combined to attempt exactly seven passes at the NFL level.
Seven.
Mike Glennon chose the money and the opportunity to start in Chicago rather than carry a clipboard on the Tampa Bay sidelines — and who can blame him? Although Glennon barely got on the field in the past two seasons as Winston's backup, his departure has created a comfort void.
Tampa Bay's depth chart lists Ryan Griffin and Sean Renfree behind Winston, and if those two names don't ring a bell, that's understandable … they've never answered the bell at the pro level.
Popular Danger
Griffin, signed by New Orleans in 2013 as an undrafted free agent out of local college Tulane, is still hoping to throw his first NFL pass. Renfree, selected by Atlanta in the seventh round of the 2013 draft out of Duke, signed with the Bucs three months ago.
Renfree's seven pass attempts for the 2015 Falcons represent the sum of pro experience for Winston's would-be replacements.
This is a dangerous game the Bucs are playing, but they are not alone.
Ben Roethlisberger is backed up by untested Landry Jones. Brett Hundley sits behind Aaron Rodgers, Veteran scrub Chase Daniel is No. 2 to Drew Brees, and Scott Tolzien is the man if Andrew Luck goes down.
"Having a quality backup is an insurance policy," says former quarterback Boomer Esiason.
Winston has been quite durable through two seasons, taking virtually every snap, and he now has an enviable set of weapons at his command. But look what happened to the Raiders late last year when Derek Carr went down.
Oakland appeared poised for a deep playoff run before Carr broke his fibula in Week 16. Matt McGloin was injured in the regular-season finale and rookie Connor Cook was forced to start the playoff opener against Houston.
The Raiders were eliminated in a 27-14 setback as Cook threw three interceptions, completing only 18-of-45 passes.
"I mean, we'd all love to have a backup quarterback who we can win 12, 13 games with," says Colts GM Chris Ballard. "But we all know that's not realistic."
Comfort Level
Dirk Koetter knows Renfree well, having served as Atlanta's offensive coordinator for Renfree's first two seasons as a pro. The Falcons cut Renfree last August after signing veteran Matt Schaub.
"Sean's one of the toughest guys I've been around," says Atlanta coach Dan Quinn. "Mentally tough, physically tough. When you have as much respect for a guy, even for me over a short time, he earned that respect. He'll always have a fan in me, that's for sure."
At this point, the Bucs would rather rely on Renfree and Griffin to develop rather than sign a more experienced backup who has already proven he can't get the job done.
Would Buc fans truly feel more at ease with Blaine Gabbert, who is 9-31 as an NFL starter? I think not.
With so many teams still looking for a No. 1, landing a quality backup is risky business. The common wisdom across the league is that you're doomed any time your starting quarterback goes down for an extended period.
That might not be the case in New England, where Matt Cassel went 10-5 after Tom Brady was sidelined in 2008, but we all know rules don't apply in Foxborough.
The Bucs could try to sign a veteran quarterback before heading to Miami for the season opener, but it would have to be the right guy.
Losers need not apply.